GOMACO World Index --- GOMACO World 35.1 - February 2007
Slipping 10 Foot (3 m) Wide Dolly Pads with a GT-3600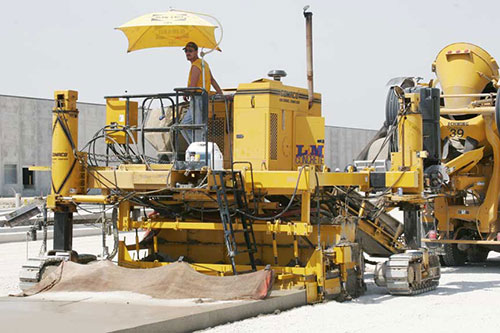 A massive building project is taking place at the old Joliet Arsenal in Elwood, Illinois. The arsenal is being converted into the Deer Run Industrial Park, and houses the national distribution facilities for a major department store. Two buildings there house 3.4 million square feet (315,860 m2) of warehouse space for the store.
L&M Concrete, based out of Elwood, Illinois, was the curb and gutter contractor on the project, and used their GOMACO GT-3600 to slipform 31,000 feet (9449 m) of high-back curb and gutter. Another contractor had been hired to pave approximately 20,000 feet (6096 m) of dolly pad for the semi-truck trailers to sit on between loading and transporting.
The contract fell through and left the development coordinators looking for a replacement. They turned to L&M and hoped they'd have an answer to pave the 10 foot (3 m) wide, eight inch (203 mm) thick pad.
"When the developers first approached me about the dolly pad, I told them I just couldn't do it," Les Cheney, owner and president of L&M Concrete, said. "Later, I was telling my GOMACO distributor, Marty Ahrendt with Finkbiner Equipment Company, about the project and told him that I wished there was a little paver I could rent. Marty said I didn't need a paver, that my 2005 GT-3600 could pave 10 feet (3 m) wide."
GOMACO offers a 10 foot (3 m) wide centermount mold kit. Cheney, Finkbiner and GOMACO engineers worked together to customize the kit to fit the project requirements. They determined early on that Cheney wanted to use the conveyor with a closed-front mold instead of dumping directly on the ground in front of the GT-3600. The mold is equipped with extra vibration and an auger that moves the concrete across the width of the pad. The mold system connects to the GT-3600 with added framework sections that include extensions for the three tracks so they can be properly placed for project requirements.
"GOMACO did some excellent engineering on this entire package," Cheney said. "The finished concrete pad came out the back as slick as could be."
Production rates were phenomenal. Their best day's production saw them slipforming 530 cubic yards (405 m3) of concrete in seven hour's time. The GT-3600 was moving so fast that an extra concrete supplier had to be brought in. At times the slipforming operation was moving along so well that eight cubic yard (6.1 m3) ready-mix trucks were being unloaded in under four minutes.
"Most days we'd arrive at the job site at 7 a.m., slipform 1000 feet (305 m) of the dolly pad, which was approximately 250 cubic yards (191 m3) of concrete, and we'd be done by noon," Cheney said. "When I say done at noon, I mean done. We were leaving the site with our tools and the machine cleaned up, and heading to our next project for the day. It was phenomenal. This project had a very strong quality control and inspection requirements on it, too."
The GT-3600 put such a nice finish on the final concrete pad that L&M's finishers had very little to do. They ran a bull-float over it and a light broom finish. Finishers spent most of their time putting in expansion joints every 100 feet (30.5 m).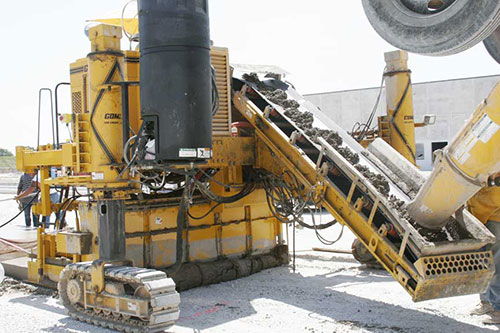 A GT-3600 slipforms 10 foot (3 m) wide dolly pads at a distribution facility. The dolly pads keep the landing gear of the truck trailers from sinking into the surface the trucks are parked on while the trailers wait to be loaded or transported.
"I just can't imagine how much man power it would have taken to frame and pour just 1000 or 2000 feet (305 or 610 m) of dolly pad, and then go back and strip it all down after the pour," Cheney said. "The GT-3600 really worked well for us on this project. Because we have this new mold, we've picked up more jobs like this so we have a lot more work lined up for next year. It's really going to have an impact on this little family business of mine."
Cheney started L&M Concrete in 1982 specializing in patios and driveways. His focus soon shifted to city sidewalks and smaller curb and gutter projects. His company grew from there. Within a couple of years, they were handforming approximately 200,000 feet (60,960 m) of curb and gutter per year. In 1990, it was time to get a slipform curb and gutter paver, they turned to GOMACO and the GT-3600. They've been running GT-3600s ever since.
Cheney, his step-son and GT-3600 operator Ricky Bishop, and other members of his team have been regular attendees at GOMACO University for several seasons. Each time they attend, according to Cheney, they learn something new and a better or more efficient way to operate their machine.
"We slipform a tremendous amount of curb and gutter in the northern Illinois area and I wouldn't use anything other than a GOMACO. I personally believe that GOMACO is the Cadillac of curb and gutter machines," Cheney said. "But more importantly than having a good Cadillac, is a good service team that backs up their product. I'm a real sledgehammer mentality-type guy and their service people, as well as Finkbiner's mechanic, Radar Bazan, are very good and very easy to get along with. We have a great relationship. The way I look at it, GOMACO and Finkbiner Equipment are just like an extension of L&M Concrete."
The undermounted mold on the GT-3600 is built with a "frame around a frame" concept, which is illustrated by the orange pieces of framework in these drawings.
Subscribe to Receive GOMACO World Magazine