GOMACO World Index --- GOMACO World 37.1 - June 2009
Paving 99 Lane Miles (159 km) and Counting Without a Single Grind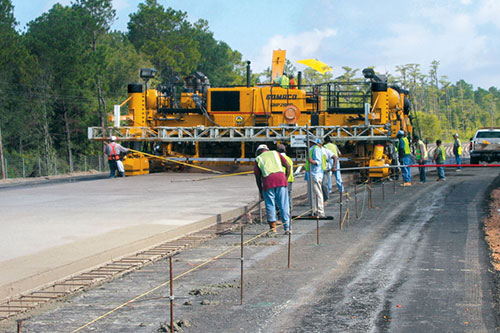 The first 72 lane miles (116 km) of Scruggs' work on I-75 in Georgia was slipformed using stringline. They achieved excellent rideability.
The Cook County I-75 widening project is a $126 million project between Adel and Lenox, Georgia. It's part of the state's Fast Forward Program, a $15.5 billion initiative to expedite transportation projects. Part of that initiative includes widening I-75 from four to six lanes throughout parts of Georgia.
The Scruggs Company of Valdosta, Georgia, has their GOMACO paving train at work on the project, and they have been achieving good rideability, which means absolutely no grinding on 99 lane miles (159 km). And the project isn't even complete yet. The company still has 27 more lane miles (43.5 km) to pave and they plan on having zero grinding on that section as well.
"We're dealing with a seven inch per mile (110 mm/km) maximum on the one-tenth blanking band," John Romaine, Concrete Division Manager for Scruggs, said. "Our average results are in the 1.5 inch (24 mm) range and that includes all the concrete paving on the project, even the short run, leave-out sections. If you take just our mainline runs, we're under one inch per mile (16 mm/km)."
Scruggs used the Leica stringless guidance system on their PS-2600 placer/spreader and four-track GHP-2800 while paving the last 27 lane miles (43.5 km). They've used the stringless system on grading and site prep equipment, but this was the company's first time using it to pave.
"Alignment of the PS-2600 is critical for us," Romaine said. "This is a continually-reinforced concrete (CRC) project and we have only two inches (51 mm) of clearance from the outer edge of the transverse bar assemblies to the inside of the sideforms. It is critical to maintain alignment horizontally and it worked well."
The concrete is a Georgia Class 1 mix with a size 57 stone and natural sand. Slump averages between 1.25 to 1.75 inches (32 to 44 mm). It is mixed at an on-site batch plant and delivered by dump trucks carrying nine cubic yard (6.9 m3) loads.
The new Portland cement concrete pavement is being slipformed by a GOMACO GHP-2800 four-track slipform paver. Each paving pass is 25 feet (7.6 m) wide, 12 inches (305 mm) thick. A side-mounted bar inserter shoots #5 bars, 24 inches (610 mm) long, into the side of the slab at 18 inch (457 mm) intervals.
"We like our GHP-2800 four-track," Romaine said. "It gives us flexibility to tackle different types of projects, gives us a good ride, and allows us to pave more accurately."
A four-track Commander III is slipforming a 12 foot (3.7 m) wide add-on lane on the project. It is also equipped to pave stringless.
When Scruggs first started using the stringless system, they went through a series of on-site tests with personnel from GOMACO and Leica. Stringline was also set so a GOMACO Smoothness Indicator® (GSI) could run behind the paver and provide real-time ride information during the testing.
"It was important to me to have a GSI as part of the paving train during testing," Romaine said. "It obviously provided some excellent feedback, instantly, so we could make any necessary adjustments.
"We were able to run the 3D model of the project through the GSI software so we could predetermine the best possible ride we could achieve. We discovered, because of the profile grades of the roadway and other factors, the best we could achieve on the IRI would be around a 40. It's interesting to be able to determine the best ride number you can possibly achieve, no matter what smoothness index you're using."
The optional GSIToolsTM software gives contractors the ability to build a profile of the project to view various indexes and also estimated concrete yield before paving begins.
A GOMACO T/C-600 texture/cure machine follows behind the paver applying a 0.375 inch (9 mm) center-to-center horizontal tine and a white spray cure. Sonic sensors, steering off the side of the slab, guide the texture/cure machine.
"I think the future for the stringless system is bright and we're looking forward to learning more about the system's true capabilities," Romaine said. "We've gone Leica from bottom to top. We're building subgrade, base, and now concrete."
Scruggs' work on the I-75 project is scheduled for completion by mid-summer 2010. They'll spend this summer paving the northbound side of the project, an additional 27 lane miles (43.5 km), with their GOMACO paving train.
"GOMACO is the best in the business, as far as I'm concerned," Romaine said. "We get great service out of all the individuals at GOMACO, from their parts people to their engineers to their salesmen. We also get great performance from their equipment. The ease of setup and change-over for different paving widths saves us a lot of time and money."
The Scruggs Company took part in a voluntary trial using the zero-blanking band to test their CRC pavement smoothness, and the ride produced with their GHP-2800 with Leica stringless system. As part of the test, Scruggs profilographed four miles (6.4 km) of the new I-75 project. Their results were excellent. The overall PI averaged only 16.20, with numbers as low as 10.4.
Subscribe to Receive GOMACO World Magazine