GOMACO World Index --- GOMACO World 37.2 - September 2009
Polymer Paving on a Project in Sacramento, CA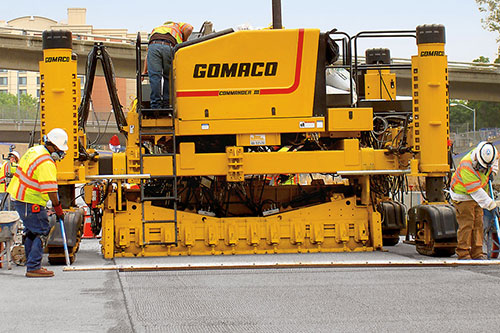 The Commander III was equipped with a 5000 series mold with pan vibrators mounted inside the mold to vibrate the polymer mix.
C.C. Myers Inc., based out of Rancho Cordova, California, took on the challenge of rebuilding a portion of Interstate 5 through downtown Sacramento. The two mile (3.2 km) section of roadway was expected to take 305 days to rebuild. Myers accomplished the task in only 35 work days.
Part of the project's early completion was due to the use of polymer concrete overlay slipformed with a GOMACO four-track Commander III. Polymer concrete has a higher strength and faster curing rate than regular concrete, which allowed Myers to schedule pours closer together while still being able to move equipment on the new polymer roadway.
Work was carried out through the I-5's "Boat Section," which was built below the water level of the nearby Sacramento River. Water had started leaking through the old roadway and was causing major cracking that needed to be repaired.
I-5 is a critical artery through the city of Sacramento. It carries an average of 190,000 drivers daily, or an average of 9000 vehicles per hour during commute hours.
Subscribe to Receive GOMACO World Magazine