GOMACO World Index --- GOMACO World 38.1 - July 2010
Country of Georgia Chooses Concrete for Silk Road Project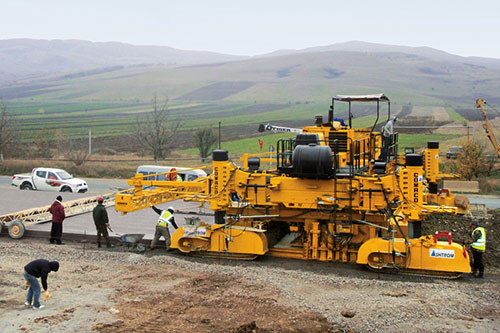 The E60 motorway has a long and fabled history, almost as long as the road itself, which stretches from Brest, France, across the countries of Germany, Austria, Hungary, Romania, Switzerland, Georgia, Azerbaijan, Turkmenistan, Tajikistan, Uzbekistan, and ending in Irkeshtam, Kyrgzstan. It follows the ancient route of the Silk Road, a 6437 kilometer (4000 mi) long trade route for transporting goods, like silk, from China to different parts of the world. The start of the Silk Road is dated back to second century BC.
It's still an important trade route today. The country of Georgia is investing heavily in their highway structure, including rebuilding the E60, or their East-West Highway across the country. Ashtrom International Ltd., based out of Israel, was responsible for rebuilding 25 kilometers (15.5 mi) of the old highway, the section connecting Igoeti to Sveneti. It would be rebuilt as a new, four-lane highway and slipforming would be introduced to the country as a way of producing quality concrete roadways more efficiently and cost effectively.
Ashtrom International purchased a new GOMACO GP-4000 slipform paver with an IDBI and a T/C-600 texture/cure machine to slipform the new east/west portion of roadway. The paving season is short in Georgia, due to winter weather, so deadlines were tight to get the equipment manufactured and shipped from Ida Grove, Iowa, USA. The fastest method of delivery was by air, so Ashtrom hired a Russian Antonov cargo plane to transport their new equipment.
The GP-4000 slipformed the new roadway 11.5 meters (37.7 ft) wide and 280 millimeters (11 in) thick. The pavement profile consisted of a one meter (3.3 ft) wide outside shoulder, two 3.75 meter (12.3 ft) wide driving lanes, and a three meter (9.8 ft) wide inside shoulder. The transverse joint in the pavement was every five meters (16.4 ft) where the IDBI implanted 28 dowel bars across the width of the new road. The bars are each 25 millimeters (1 in) in diameter and 500 millimeters (19.7 in) long.
The configuration of the lanes dictated different spacings for the bar insertion. The inside lane is designated as the high-traffic lane, so extra bars were built into its design to handle the heavier load. (See drawing below.) All bars were placed 140 millimeters (5.5 in) into the center of the slab's thickness.

A drawing illustrates the unique bar placement designed into the lanes of the new roadway.
Concrete for the project was provided by Ashtrom's on-site batch plant, which was set up in the center of the project. Twenty-five dump trucks carrying seven cubic meter (9.2 yd3) loads kept the GP-4000 supplied with concrete. Slump averaged between 30 to 40 millimeters (1.2 to 1.6 in).
"We quickly learned that the slump of the concrete was critical," Wayne Saywell, Ashtrom's Paving Manager for the project, said. "When we first started out, the slump was too low and we really struggled. Then we increased the slump and everything went really well after that. This was Ashtrom's first major road paving project, so we expected a bit of a learning curve."
Paving production averaged between 450 to 500 meters (1476 to 1640 ft) per day. Their best paving day reached 765 meters (2510 ft) in a 10.5 hour day. Production was limited by subgrade preparation. Ashtrom's crew could pave faster than the subgrade crew could place and level the crushed stone for them to pave on.
"We had to move the paver around a lot on the project, due to areas not being ready for us," Saywell said. "The GP-4000's versatility really helped us out. We'd pave with it one day, put it in transport and track it to the next section the next day, and then paving again the following day. It was great, especially because of the tight schedule we were on."
A T/C-600 texture-cure machine followed the GP-4000 paver. It applied a carpet drag finish and sprayed a curing compound on the new roadway.
"We had very little handwork behind the paver, and most of that was on our headers and footers each day," Saywell said. "The tolerances of the road were three to five millimeters (0.12 to 0.2 in) and we had no problems staying within that the entire time we paved. The GP-4000 with IDBI is a great machine. It's very easy to operate, does a great job, and is ideal for this kind of paving."
The president of Georgia, Mikheil Saakashvili, opened the Igoeti-Sveneti section of roadway and personally drove a car on the country's newest highway. He approved of the work accomplished. Ashtrom International's work on the project was so successful, the government awarded them another 25 kilometers (15.5 mi) of the East-West Highway to pave after their first section was complete.
Loading the Antonov 124-100 in Lincoln, Nebraska, USA
Ruslan International, a new partnership between Antonov Airlines and Volga-Dnepr Airlines, provided the Antonov 124-100 aircraft used to transport the GP-4000 to the country of Georgia. The company has a combined fleet of 17 Antonov 124-100 aircraft. Here's just a few facts and figures associated with the aircraft and GOMACO's shipment...
Flight path: Lincoln, Nebraska, to Gander, Newfoundland, Canada, to Prestwick, South Ayrshire, England, to Bergas, Bulgaria, to Georgia.
Range with 120,000 kilograms (264,550 lbs): 4650 kilometers (2889 mi).
Maximum take-off weight: 392,000 kilograms (864,198 lbs).
Maximum payload: 120,000 kilograms (264,550 lbs).
Useable volume: 750 cubic meters (981 yd3).
Cargo compartment dimensions: 36.5x6.4 x4.4 meters (120x21x14 ft).
GP-4000 four-track approximate shipping dimensions: 15x3x3.7 meters (49x10x12.2 ft).
GP-4000 four-track approximate shipping weight: 42,000 kilograms (92,600 lbs).
5000 series mold with auger/strike-off approximate shipping dimensions: 12.3x2.6x2.4 meters (40.3x8.5x7.9 ft).
5000 series mold with auger/strike-off approximate shipping weight: 15,803 kilograms (34,840 lbs).
Plus the IDBI, and other miscellaneous paver and accessory pieces.
Subscribe to Receive GOMACO World Magazine