GOMACO World Index --- GOMACO World 38.1 - July 2010
A New Polymer Overlay for a Scranton, Pennsylvania, Bridge Deck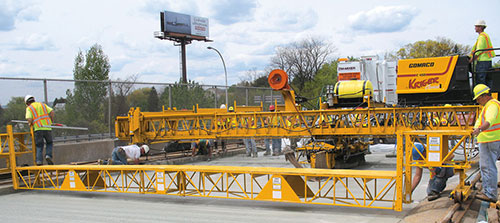 A GOMACO C-450 is followed by a Spanit® work bridge on a polymer concrete overlay project in Scranton, Pennsylvania.
Kriger Construction Inc., based out of Dickson City, Pennsylvania, recently completed a bridge overlay project in Scranton with their GOMACO C-450 finisher. The Pennsylvania Department of Transportation (PennDOT) required a one inch (25 mm) thick polymer concrete overlay on the existing bridge deck. The bridge, with four traffic lanes, was refinished two lanes at a time, which allowed traffic to run on the other two lanes. The GOMACO C-450 was set up at 32 feet (9.75 m) wide, with a finishing width of 24 feet (7.3 m).
The concrete was mixed on-site. The special polymer concrete mixing truck could be driven onto the deck, and placed the concrete in front of the finisher. A GOMACO Spanit® work bridge followed the C-450 giving the workers a platform for finishing work.
Subscribe to Receive GOMACO World Magazine