GOMACO World Index --- GOMACO World 38.1 - July 2010
GOMACO Two-Track and Four-Track GHP-2800 Work Together for a Fast Completion Date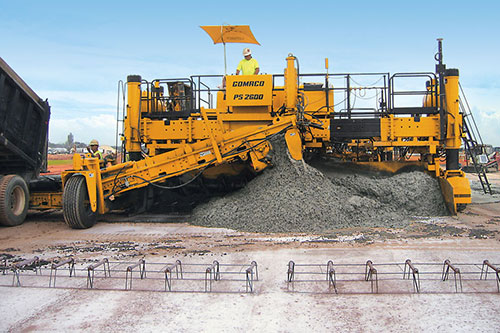 The new PS-2600 placer/spreader provides excellent production with its increased conveyor power and optional closed-loop augers.
The Charlotte Douglas International Airport in Charlotte, North Carolina, was named the eighth busiest airport in the United States and the 24th busiest airport in the world by passenger traffic in 2009. As passengers from around the world flew in and out of the airport, Hi-Way Paving Inc. was slipforming a new 9000 foot (2743 m) long runway that would make the airport even more efficient and traveler friendly in 2010 and beyond.
Hi-Way Paving, based out of Hilliard, Ohio, was the prime contractor for the Phase Two package of work at Charlotte Douglas. Concrete paving work included the new 9000 foot (2743 m) long runway, two taxiways that were 4500 feet (1372 m) and 4800 feet (1463 m) long, high-speed crossovers, and four large connectors that tie into the existing runway. Approximately 242,500 cubic yards (185,406 m3) of concrete was slipformed during Phase Two, all with Hi-Way's GOMACO paving equipment.
Hi-Way Paving brought in their GOMACO four-track GHP-2800 paver, PS-2600 placer/spreader, and T/C-600 texture/cure machine. Since they were planning on paving around the clock at the airport, they added a new two-track GHP-2800 and PS-2600. Crews could be paving with one train during the day while another crew could be setting up another train for a night pour.
Also new to Hi-Way Paving's inventory for the airport project was a stringless paving system. The placer/ spreaders were controlled by GPS units, while the GOMACO pavers utilized Total Stations for greater accuracy.
In fact, the entire project was stringless, including the six-inch (152 mm) thick cement-treated base (CTB). Approximately 85,000 cubic yards (64,988 m3) of CTB was laid on the airport forming a solid base for the new concrete.
Concrete for the project was mixed on-site with two 12 cubic yard (9.2 m3) mobile batch plants. The concrete is an airport-approved, 650 flex mix design. Slump averaged between one to 1.5 inches (25 to 38 mm), depending on the day's high temperature. Warmer days required a higher slump concrete.
Dump trucks carried 10 cubic yard (7.6 m3) loads of concrete to the paving site and dumped onto the belts of the PS-2600s. Hi-Way's new PS-2600 quickly earned the crew's respect. Its larger conveyor pump and motor increased total conveyor power to 7349 pound (3334 kg) belt pull vs. 5767 pound (2616 kg) belt pull. Hi-Way also added the optional closed-loop augers which provided 83 rpm vs. 34 rpm in auger speed.
"The new placer is an excellent machine," Kevin Stephen, Job Superintendent for Hi-Way Paving, said. "We get excellent production out of it."
On Hi-Way's longer paving runs, both placer/spreaders were used in front of the four-track GHP-2800 to maximize production. The new runway is 9000 feet (2743 m) long, 150 feet (45.7 m) wide and 18 inches (457 mm) thick. The GHP-2800 slipformed it in six 25 foot (7.6 m) wide paving passes. Baskets were placed on grade every 25 feet (7.6 m) to form each panel.
A new 75 foot (22.9 m) wide parallel taxiway is situated next to the runway. The GHP-2800 slipformed it in two 25 foot (7.6 m) wide paving passes, and then slipformed the outside lanes 12.5 feet (3.8 m) wide over wire mesh reinforcing.
"From day one on this project, we used the stringless system," Stephen said. "The first day was a little scary because we had nothing to check it to. We're used to having a stringline there that we can measure from and see that everything is on line. We learned to check each day's pour prior to paving day, just to make sure we didn't have a bad grade. It helped us locate any bad spots in the CTB and that helped us avoid any bumps in the final concrete because of bad grade."
The Total Stations from the stringless system helped Hi-Way locate the electrical cans in the concrete. A total of 3400 electrical cans were paved over in the runway. Electricians needed to find them and then core them out. The Total Stations were used to mark and locate each can so the light fixtures could be attached.
The new two-track GHP-2800 spent the majority of the project slipforming the 700 feet (213 m) long high-speed crossovers. The two-track's maneuverability and fast tracking speed, up to 122 feet per minute (37.2 mpm), was beneficial for getting to and paving the shorter runs.
"The two-track is easy to get around with, get in and out of those short paving runs, and allows us to pour closer to the joints," Stephen said. "A second paving spread allowed us to have a crew getting the equipment in place and set up for the night pour while we were paving on the runway during the day. It allowed us to move from spot to spot so we didn't have any downtime at all."
Time was critical for the crossover pours. They had to be completed at night with the airport only allowing 5.5 hours of working time so the existing runway could be open again to plane traffic by 6:30 a.m.
"That was basically a project all by itself," Stephens said. "We had a night crew working constantly. They slipformed over 20,000 cubic yards (15,291 3) of concrete, connecting the old runway to the new connectors."
Very little finishing work was required behind the GHP-2800 pavers. Finishers used a 16 foot (4.9 m) straight-edge and the T/C-600 machine applied a burlap-drag finish.
The airport required both a smoothness and an edge slump specification be met on all of the concrete pavement, including fill-in areas and short paving runs.
"The straight-edge requirement was one-eighth of an inch (3 mm) between lanes with a 16 foot (4.9 m) straight edge," Stephen explained. "The runway smoothness was measured with a two-tenths blanking band. We had to be under seven inches per mile (110 mm/km) and everything was measured and counted in the final smoothness. We had areas on the runway that only measured a three, and we didn't have to do any grinding on any of our pavement."
Hi-Way's project contract required completion of their work by December 15, 2009. The airport then asked if they could open the entire project by November 1. Moving a deadline up by more than a month's time could have been disastrous for some contractors, but not Hi-Way Paving. By early August they had already finished the major paving on the airport, with only 2500 cubic yards (1911 m3) of fill-in work left to complete.
"We are very pleased with our GOMACO equipment and just keep getting better and better with the stringless aspect of it," Stephens said. "Low-production days, working on the crossovers and such, we only averaged about 1500 cubic yards (1147 m3). But, on the high-production days, we averaged between 3500 to 3800 cubic yards (2676 to 2905 m3) with 5000 cubic yards (3823 m3) our highest in a nine-hour shift. The paving went well and our GOMACO equipment worked really smooth for us."
Subscribe to Receive GOMACO World Magazine