GOMACO World Index --- GOMACO World 39.1 - March 2011
Short-Term Inconvenience Provides Long-Term Fix at New York's John F. Kennedy (JFK) International Airport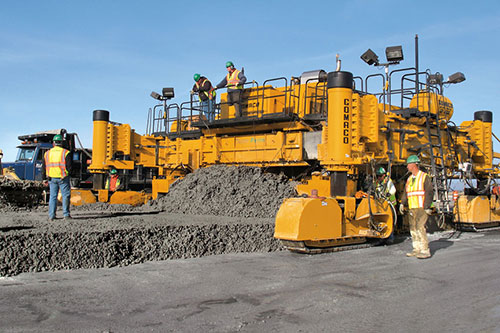 It's the runway reconstruction project that was felt around the world. John F. Kennedy (JFK) International Airport's main runway, the Bay Runway (13R-31L), was in need of repair. Its governing organizations intensively researched the best possible methods and procedures to either repair the aging runway or replace it. Flight delays resulting from a completely shutdown Bay Runway could potentially be felt across the world.
JFK International Airport serves 48 million passengers and 440,000 flights annually, with the total number of air passenger traffic expected to increase by 20 percent over the next decade. The Bay Runway handles about one third of the annual operations, including more than half of all departures. The newly rebuilt runway is expected to reduce delays overall by an estimated 10,500 hours per year.
Another interesting fact about the Bay Runway... at 14,572 feet (4442 m) long, it is one of only three in the United States long enough to land the NASA space shuttle. Rebuilding the runway efficiently and quickly was a major consideration in the preplanning phases of the project.
In a July 28, 2009, news release from New York Governor David A. Paterson, the scope of the project was laid out... Construction on the Bay Runway, or Runway 13-31, will begin immediately as part of the second phase of the JFK Delay Reduction Program. The project will widen the runway from 150 to 200 feet (45.7 to 61 m) and will include a new drainage system, new electrical infrastructure, the addition of delay reduction taxiways and accommodations for future navigational aids. This investment in the Bay Runway takes advantage of an opportunity to make longer-lasting improvements to the Bay Runway - foregoing old-model asphalt for an 18 inch (457 mm) concrete overlay instead. The lifespan of concrete is nearly five times more than asphalt and will provide an estimated long-term savings of $500 million while reducing the need for ongoing maintenance.
The Bay Runway was first placed into service in 1947. The concrete runway was built on top of six inches (152 mm) of stone screenings, 150 feet (45.7 m) wide, 10,000 feet long (3048 m) and 12 inches (305 mm) thick. Various repairs and resurfacing have taken place since then. This new contract, though, would restore the runway to its original concrete build with a new 40-year expected lifespan.
Tutor Perini Corporation, based out of Sylmar, California, was awarded the Bay Runway contract and given just 120 days to complete the bulk of the project. Company officials immediately began looking for the most reliable and productive equipment to use in all phases of the reconstruction. For the concrete slipforming work, including the new runway, Tutor Perini Corporation executives Jack Frost, CEO of the Civil Group, and Steve Pavoggi, Operations Vice President, looked to GOMACO.
Ultimately, they chose both the GP-4000 and the GHP-2800 slipform pavers, with each model having certain benefits for the various aspects of the project. The GHP-2800 would also serve as a back-up paver for the GP-4000, which was a requirement written into the project specifications.
Tutor Perini Corp. had 120 days to build the bulk of the new 14,572 feet (4442 m) long, 200 foot (61 m) wide Bay Runway (13R-31L) at John F. Kennedy International Airport.
"We spent a lot of time planning out each aspect of this project," Damon Petrillo, Project Manager for Tutor Perini, said. "We even had back-up plans for our back-up plans. We knew we'd be paving 220,000 cubic yards (168,202 m3) of concrete on the project. We talked with Len Rettinger, GOMACO's District Representative, a lot and from there we determined which paving train would be most applicable for this job."
Their main paving train included both a GOMACO 9500 placer and a PS-2600 placer/spreader in front of the four-track GP-4000 slipform paver with Auto-Float® and Leica Geosystems stringless guidance system. A T/C-600 texture/cure machine completed the paving train.
Before any work began on the Bay Runway, a test section had to be completed. The test section was new Taxiway KC, 1000 feet (305 m) long, 100 feet (30.5 m) wide, and 20 inches (508 mm) thick. The taxiway mimicked all of the same conditions as the runway, including excavation, milling, paving and more. It also gave the authorities and Tutor Perini a chance to test their concrete mix design and paving methods.
"We spent a lot of time and a lot of money to ensure the success of the concrete mix design," Petrillo said. "It was a very difficult mix, in the sense that our top size aggregate was 2.5 inches (64 mm). The test section let us prove the mix was slippable and would achieve all requirements. When it came time to actually start paving the runway, the mix worked like a charm.
"This was also our first time running exclusively stringless and that was a bit of a learning curve for us. We got a lot of support from GOMACO and Leica and it all went pretty seamless. The test strip afforded us that opportunity to learn and figure it all out."
Thirteen of the 14 test lots earned six percent incentive payment, based on the statistical performance specifications. The 14th section earned full payment. Test section Taxiway KC was deemed a success.
The construction schedule was built to include three and one-half months between the completion of the test section and the beginning of the 120 day runway closure. During that time, a series of meetings were held to discuss the lessons learned while constructing the test section and perfecting their paving plan. Tutor Perini was also busy stockpiling their supplies, trucking in aggregates, cement and other raw materials.
Then, on March 1, 2010, the Bay Runway was officially closed for 120 days. By mid-March, Tutor Perini was paving concrete.
"Our concrete paving went very well," Petrillo said. "Keeping the concrete placement on schedule was the key factor for the project's overall success. The utilization of the Leica stringless system was one of many contributing components."
The GOMACO pavers were slipforming passes 25 feet (7.6 m) wide, so it required eight passes to slipform the 200 foot (61 m) wide runway. The GP-4000 would work during the daylight hours on the longer paving runs. At night, while the GP-4000 went through cleaning and routine maintenance, the GHP-2800 worked on the shorter runs and fill-in sections of the project.
Concrete was produced by two on-site batch plants capable of producing over 6000 cubic yards (4587 m3) per day. Slump for the sensitive concrete mix averaged approximately 1.5 inches (38 mm) at the paving site. Over 20 trucks, depending on which portion of the runway was being slipformed, hauled 12 cubic yard (9.2 m3) loads of concrete to the paving site. The trucks would dump into the receiving hopper on the 9500 placer or the belt of the PS-2600 placer/spreader.
Smoothness specifications on the runway required a profile index with a two-tenths blanking band of 22 inches or less per mile (347 mm/km). Between 15 and 22 inches per mile (237 and 347 mm/km) was subject to a penalty reduction and over 22 inches (347 mm) required grinding. Straight-edge specifications allowed a 0.25 inch (6 mm) plus or minus grade differentiation in 500 feet (152.4 m). Tutor Perini easily achieved and exceeded both specifications.
"Both pavers achieved very similar results, especially when we had a steady supply of concrete," Petrillo said. "We incorporated an Auto-Float on both machines and for this type of paving, the Auto-Float eliminated a lot of hand-finishing work for us."
A GOMACO T/C-600 texture/cure machine followed the paver, applying a burlap-drag finish and spraying a concrete curing compound. Joints were placed every 25 feet (7.6 m), creating a total of 4900 squares, each 25 by 25 feet (7.6 m).
The runway reopened on June 28 with all navigational features, beating their required July 1 deadline. Total length was 10,925 feet (3330 m), requiring 160,000 cubic yards (122,329 m3) of concrete. The early completion earned Tutor Perini a $5 million bonus. The remaining 3647 feet (1112 m) of runway was completed in the next few months with the total volume of work completed by mid-November 2010, one year ahead of their contractual schedule.
"This was such a unique project in so many aspects," Petrillo said. "We were all looking for the same result and we all wanted this to be a success. Through every single phase, we had complete cooperation from the Port Authority of New York and New Jersey, our subcontractors, suppliers, and consultants. That also includes everyone we worked with at GOMACO. We knew we had to pour concrete every day for this project to be a success."
John F. Kennedy (JFK) International Airport
OPERATED BY: The Port Authority of New York and New Jersey, under a lease with the City of New York since June 1, 1947.
LOCATION: On Jamaica Bay in the southeastern section of Queens County, New York City. The airport is located 15 miles by highway from midtown Manhattan.
SIZE: JFK covers 4,930 acres, including 880 acres in the Central Terminal Area. The airport has more than 30 miles of roadway.
INVESTMENT: About $150 million was expended on original construction. The Port Authority has invested about $6.1 billion in the airport.
TERMINALS: JFK has seven operating airline terminals, surrounded by a dual ring of peripheral taxiways. More than 125 aircraft gates serve the terminals.
AIR TRAFFIC CONTROL TOWER: The 321-foot tower, which opened in 1994, includes state-of-the-art communications, radar and wind-shear alert systems.
PARKING: The airport offers customers over 18,000 parking spaces in a variety of locations.
CARGO: JFK is one of the world's leading international air cargo centers. Two cargo facilities totaling 430,000 square feet of warehouse and office space offer the latest in cargo-facility design. The airport has more than one million square feet of office and warehouse space dedicated to broker, freight forwarder and container freight station operators who do business within the New York/New Jersey region.
RUNWAYS/TAXIWAYS: Total runway length is nine miles. Taxiways total 25 miles in length. All runways have high-intensity runway edge lighting, centerline and taxiway exit lighting and are grooved to improve skid resistance and minimize hydroplaning.
Subscribe to Receive GOMACO World Magazine