GOMACO World Index --- GOMACO World 39.2 - November 2011
Beating the IRI with Smooth Paving on an Ohio Highway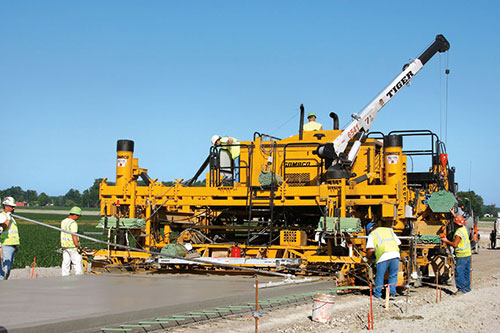 U.S. Route 24 was a two-lane highway through northwest Ohio. It's a major shipping route, with trucks representing one third of the total volume of traffic. Safety of residential travelers was becoming a concern with such high truck volumes, so the Ohio Department of Transportation (ODOT) developed a plan to expand U.S. 24 into a four-lane divided highway. Work is currently underway on a 16 mile (25.7 km) stretch between Napoleon and Toledo, Ohio. Shelly & Sands Inc., based out of Zanesville, Ohio, is the contractor responsible for the concrete paving on the project.
A total of 245,000 cubic yards (187,317 m3) of concrete will be slipformed on the highway expansion project. Shelly & Sands is using a variety of GOMACO equipment, including a PS-30 placer/spreader, four-track GHP-2800 paver with IDBI, and a T/C-600 texture/cure machine for the mainline paving. A four-track Commander III with an IDBI attachment is slipforming the project's eight entrance/exit ramps.
"Basically, we have 16 miles (25.7 km) of new four-lane divided highway," said Paul Singleton, Project Superintendent for Shelly & Sands. "We're slipping the roadway 24 feet (7.3 m) wide with the GOMACO GHP-2800 with IDBI and we're placing a 12 foot (3.7 m) and a four foot (1.2 m) shoulder with our other GOMACOs. We started the project last September and should be finished by the first of next year."
Shelly & Sands' contract doesn't require completion until the end of 2012. Mainline paving will be finished this season, one entire year early while quality has been maintained throughout the entire project. ODOT has rigid specifications for both bar placement accuracy with the IDBIs and also project smoothness. They use the International Roughness Index (IRI) to measure pavement smoothness, requiring numbers between 60 to 70 for 100 percent pay. Anything under a 60 earns incentive.
"This has been our first major project utilizing the IRI and it's created some challenges and also had us reevaluate some of our methods," explained Brian Little, Concrete Superintendent for Shelly & Sands. "Two of the changes that we implemented was the use of a placer/spreader in front of the paver and we also modified our Auto-Float® on the back of the paver. We used to dump two trucks at a time in front of the paver, and we'd go from a big head of concrete to sometimes hardly any at all. We also don't start and stop the paver as much with the placer/spreader out front. It all helps achieve smoothness when you're paving under the IRI specification.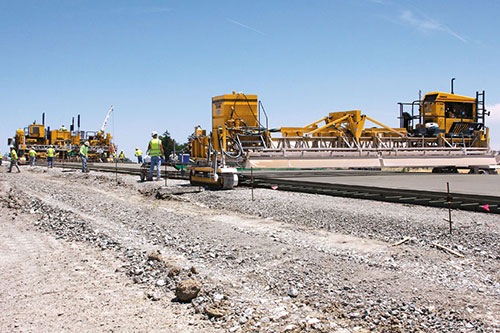 Shelly & Sands Inc. is paving Ohio's U.S. Route 24 with their GOMACO paving train, which includes a GHP-2800 with IDBI. The project uses the IRI to measure smoothness and Shelly & Sands has achieved some outstanding results and earning incentive.
"We're doing pretty well with it. We've been averaging numbers in the upper 50s and low 60s. We've even had numbers in some good-sized sections in the high 40s and mid-50s. We're pretty happy with that."
The concrete for the project is produced on-site by Shelly & Sands' mobile batch plant. It produces two different mixes, depending on the temperature. Normal temperatures require an ODOT Class C mix with 550 pounds (249 kg) of cement with a water reducer. When temperatures warm up, the mix is changed to 385 pounds (174.6 kg) of cement with 165 pounds (74.8 kg) of slag. Concrete slump averages one to 1.5 inches (25 to 38 mm).
The plant's production averages 350 cubic yards (267.6 m3) per hour with 25 trucks carrying 11 cubic yard (8.4 m3) loads of concrete to the paving train.
Shelly & Sands' 2002 four-track GHP-2800 with IDBI is paving 24 feet (7.3 m) wide and 11.5 inches (292 mm) thick. The IDBI is inserting 24 bars, on-the-go, every 15 feet (4.6 m) to form the new highway's transverse joints. The 1.5 inch (38 mm) diameter bars are 18 inches (457 mm) long and placed on 12 inch (305 mm) centers across the width of the slab.
"ODOT is on site every day checking and verifying the placement and accuracy of our bars," Little said. "Everything has been right where it should be, and we haven't had any problems at all with the placement of the dowel bars."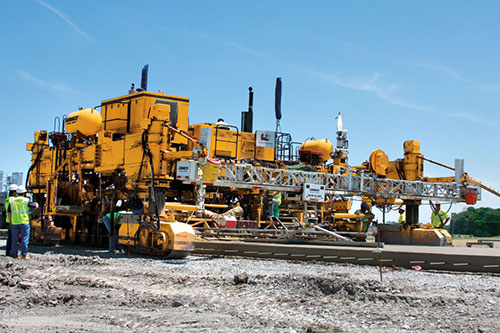 The four-track GHP-2800 with IDBI is paving 24 feet (7.3 m) wide, 11.5 inches (292 mm) thick. The IDBI is inserting 24 bars every 15 feet (4.6 m) on-the-go for the transverse joints.
Shelly & Sands' new GOMACO T/C-600 texture/cure machine follows the paver applying a longitudinal tine and white spray cure to the new concrete. Paving production on the project averages 2800 cubic yards (2141 m3) during a 12 hour shift.
The eight entrance/exit ramps on the project are being slipformed 16 feet (4.9 m) wide, 11.5 inches (292 mm) thick with Shelly & Sands' 2010 four-track Commander III with an independent IDBI attachment. Before the new IDBI attachment, dowel baskets had to be placed on grade by hand during paving. The process required more laborers, materials, and time to finish a single ramp.
"We do a lot of ramp work," Little explained. "Very rarely is there any room for a haul road, so we were always putting baskets down by hand as we paved. This IDBI attachment just makes everything better.
"You don't have to worry about getting your baskets placed right and the IDBI attachment is a lot quicker... it takes less people, material costs go way down with a straight dowel bar versus a basket, and we achieve higher production."
The IDBI attachment is placing 16 bars on 12 inch (305 mm) centers across the width of the ramp. Transverse joints are placed at 15 foot (4.6 m) intervals.
"It's working great, both the Commander III and the IDBI attachment," Johnny VanDyne, Paving Crew Foreman for Shelly & Sands, said. "The switch to the IDBI's new G+ controls has been pretty much flawless and the operator did great with it. Production has been fantastic, too. On a typical 700 cubic yard (535 m3) ramp, it would have taken us 12 to 14 hours for setting dowel baskets, tie bars and paving. With this new machine, we have about five hours in total slipping it.
"Accuracy of the bar placement has been wonderful, too. We show the inspectors right off the bat how we string it and get our depth and then we'll dig up some of the placed bars here and there for them to visually check them. All of the testing has been great."
The Commander III is also equipped with a front-mounted bar inserter and two hydraulic, sidemounted bar inserters. A number five bar, 18 inches (457 m) long, is inserted every 26 inches (660 mm) by the front-mounted bar inserter for the longitudinal joint. Tie bars are inserted into both sides of the new ramp on 18 inch (457 mm) centers with the hydraulic side bar inserters.
"Before the Commander III with IDBI attachment, each one of these ramps would have been an all day project for us. Now, with the new GOMACO machines, we can slip each one in approximately five hours, using two to three less laborers on the crew," Little said. "It works out great and you can use it everywhere."
Shelly & Sands does plan to use it everywhere for their projects. They have 70,000 cubic yards (53,519 m3) of four-lane divided highway in Athens, Ohio, to finish up. After that, it's on to Columbus, to start a 280,000 cubic yard (214,077 m3) rehabilitation project on Interstate 270.
Subscribe to Receive GOMACO World Magazine