GOMACO World Index --- GOMACO World 40.1 - June 2012
Stringline? 3D Paving Only for this Project Manager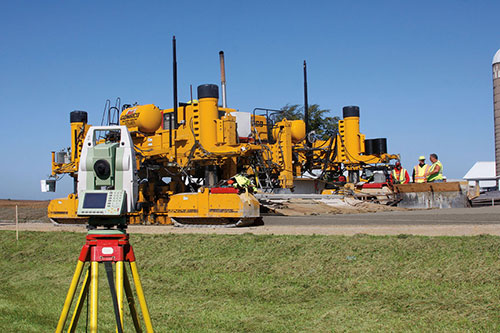 GOMACO equipment has operated with 3D controls on projects all around the world for the past 13 years. It has gained acceptance in the concrete paving industry and more and more contractors are throwing out their stringline kits in favor of 3D. Tim Tometich, a Project Manager/Estimator for Manatt's Inc., has never paved with stringline. All of his projects have utilized 3D and he offers a unique insight to stringless paving.
"I have actually not paved or managed a project with stringline, and I do not think I'd want to," Tometich said. "There are so many advantages to using a 3D system, for example, the labor you save on setting the stringline and then you don't have that stringline in the way; a lot of times you can save on concrete and actually provide a better product; you can grade and trim the subbase more accurately; and you're able to create a better riding road.
"Other advantages that I see include being able to execute changes much faster by getting the 3D model and implementing it into the system right away. You can check the model before you start paving or trimming, or even grading for that matter, and you can find mistakes a little sooner and potentially save having to shut down a crew because you were able to find the mistake early on. Then you can find a solution and be ahead of the game.
"It's definitely a technology that's going to be the thing of the future. You're going to have some growing pains to start with. And it's hard to not be able to see that stringline, see the grade, and see where you're at, but you do have the tools with the 3D system to check grade and so forth. It's just a little different way of thinking, because you don't have a hub and you don't have the level to check. You do have the GPS rover or the total station rover. It gives you more information than what you had before with stringline, even though you can't see it by driving up and looking at it. Like I said before, it's just a little bit of a different way of thinking."
Manatt's utilized their 3D technology on the company's first half-width concrete overlay project last fall paving 18 miles (29 km) of U.S. 18 near West Union, Iowa. The project was unique in the State of Iowa and was designed as a test project for the Iowa Department of Transportation (IDOT).
"This is a pilot project that was in competition with the asphalt industry," Tometich said. "It was trying to compete with basically leaving the traffic open at all times using flaggers and pilot cars, building the project half-width at a time using stringless technology. The DOT wanted to keep traffic open throughout the duration of the project."
Manatt's brought in their GOMACO four-track GHP-2800 paver with two paver-mounted GSI® (GOMACO Smoothness Indicator) units, and a GOMACO T/C-600 texture/cure machine for the project. Paving passes were 16 feet (4.9 m) wide, which included a 12 foot (3.7 m) driving lane and a new four foot (1.2 m) shoulder.
The existing U.S. 18 was only 24 feet (7.3 m) wide so the project required excavating shoulders on both sides for a new roadway 32 feet (9.8 m) wide with a two percent crown. The existing asphalt roadway had to be milled to create a more uniform surface. Specifications originally called for a 0.5 inch (13 mm) surface milling. Manatt's approached the DOT and asked for a change.
"We offered a value engineering proposal to the DOT to save on concrete," Tometich said. "The idea was to profile mill the existing surface to match the new design profile closer and not overrun on concrete because of the wheel rutting and existing inconsistencies in the slab. We were given a range of zero to 1.5 inches (0 to 38 mm) of milling depth parameter. With this latitude in milling depth, we were able to save the DOT hundreds of thousands of dollars in concrete overages. Since they'd be saving concrete by profile milling, they added an extra 0.5 inch (13 mm) to the thickness of the new overlay creating a 4.5 inch (114 mm) thick unbonded concrete overlay."
The project was divided into 3.5 mile (5.6 km) paving sections, with the single-lane traffic controlled by stop lights, flag men, and pilot cars. The surface was milled, swept, and cleaned to prepare for the unbonded concrete overlay. The final step before concrete paving could begin was tacking on #5 steel rebar, six feet (1.8 m) long and placed on 30 inch (762 mm) centers, to the existing road to tie on the new eight inch (203 mm) thick shoulders.

A safety wedge was temporally put into place to keep drivers from losing control in case they accidentally drove onto the new lane.
The concrete was a state of Iowa quality management concrete (QM-C) mix design with fly ash added. Slump averaged 1.5 inches (38 mm). Trucks dumped the concrete directly on grade in front of the paver. The GHP-2800 was slipforming 16 feet (4.9 m) wide with two different pavement depths, 4.5 inches (114 mm) for the roadway and eight inches (203 mm) for the shoulder.
Manatt's used four total stations for the 3D paving. Typically, one worker is in charge of moving them as part of the leap-frogging process. On this half-width paving project, two people were needed for leap frogging to keep ahead of the paver's high-production rate.
"The total stations typically need to be less than 300 feet (91.4 m) away from the paver," Tometich explained. "When we set up a stringless job, we'll have the surveyor go out and set control points 500 feet (152.4 m) apart on each side of the road. Technically, they're staggered so you'll find a control point every 250 feet (76.2 m) on one side of the road or the other. We set up our total stations on those points. For the most part, we try to stay within that range to keep the accuracy that we're trying to achieve."
Paving accuracy is monitored by two paver-mounted GSI units on the back of the GHP-2800. The crew can monitor their paving results instantly on the GSI's screen and make any necessary adjustments on-the-go. Iowa uses the zero-blanking band for their rideability specification. Profile indexes on roadways with speeds greater than 45 miles per hour (72.4 km/hr) require a measurement of 26.1 to 40 inches per mile (411 to 630 mm/km) for full pay. Anything under 26 inches per mile (410 mm/km) earns incentive pay.
"Our smoothness averaged 18 to 19 inches per mile (284 to 300 mm/km), with some days as low as 13 inches per mile (205 mm/km)," Tometich said. "The GSI is extremely helpful and I don't know how I'd go back to not using it. It gives us up-to-date information allowing us to make adjustments on the fly and really helped our overall smoothness. We earned 94 percent of the smoothness incentive offered on the project because of it."
A safety wedge was a unique requirement that had to be built into the project. Since live traffic was always running next to the first paved lane, IDOT wanted a safety wedge in place in case a vehicle should accidentally drop off or climb onto the new surface. The wedge eliminated the 4.5 inch (114 mm) drop off between the existing lane and the new surface. The requirement did present a challenge to Manatt's and how they would accomplish it as part of the slipforming application. They created a form box, attached it to the back of the paver, and used a skid loader to dump concrete from in front of the paver into the box. A vibrator placed inside the box vibrated the concrete before it was placed on top of a bond-breaking engineering fabric. The safety wedge stayed in place until it was time to pave the second lane. Then, Manatt's came through with a blade, scraped it off, and loaded it into trucks to be hauled away.
The concrete curing rate was monitored by maturity method sensors placed into the edge of the new pavement. Those measurements determined when live traffic could be placed on the new lane.
"With a QM-C mix, we take time and temperature readings through a wire in the slab to determine maturity," Tometich said. "From those measurements, we created a maturity curve that gave us the knowledge to know when the concrete was at the specified strength. Because we were paving in the fall with temperatures dropping fairly rapidly, we were looking at about 48 hours before we could have traffic on that lane. If we had paved it in the summer months, we could have had traffic on there in about 24 hours."
A T/C-600 texture/cure machine followed the paver. It applied a transverse tine to the 12 foot (3.7 m) driving lane and white spray cure. Wheels attached to the sensors on the T/C machine allow steering and grade to be referenced off the new slab during the texture/cure process on the stringless project.
Paving production averaged approximately 8000 feet (2438 m) per day.
"For a project that's never been done before in the state of Iowa, I think it went really well and this will be a viable option for other projects," Tometich said. "This was the first half-width overlay we've done with stringless technology. It went well and we were able to achieve very, very good smoothness on the entire project."
Subscribe to Receive GOMACO World Magazine