GOMACO World Index --- GOMACO World 41.1 - October 2013
Buying a Machine on a Dare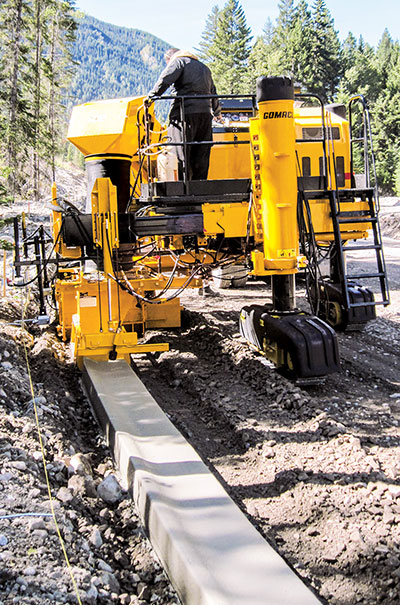 Work is progressing at the new Fred Couples-designed Whiskey Jack golf course and subdivision in Sparwood, British Columbia, Canada. Bearspaw Contracting Inc., from Elkford, was busy hand-pouring foundations and driveways when one of the project developers approached Leonard Gostick, President of Bearspaw, and asked him if he knew of anyone who could slipform the 5.5 kilometers (3.4 mi) of curb and gutter and monolithic sidewalk with curb and gutter on the project.
"I jokingly told him I had done it before as a laborer and he dared me to go buy a machine and he'd give us the contract," Gostick said. "You know concrete guys have a bit of an ego... So, we did."
They shook hands and then Bearspaw started the search for a curb and gutter machine. The company asked for advice from established slipform contractors, a friend at an equipment distributor, Chieftain Equipment Inc., and looked at everything they could find on the Internet.
"We spent probably 24 hours a day for two weeks nonstop online," Gostick said. "We looked at everything possible to see what bang we could get for the buck, what would be most versatile, and what would do what we wanted to do. Plus size of the machine... something big enough, but at the same time something we could also use to work on the little projects."
Their search led them to the GOMACO three-track Commander III. The Commander III's size allows them to slipform on any size project, and its versatility can tackle multiple applications, including Whiskey Jack's curb and gutter and monolithic sidewalk with curb and gutter.
Bearspaw took delivery of their Commander III last fall and put it to work in the subdivision. The curb and gutter on the project is a roll-over style with a 500 millimeter (19.7 in) wide base and the curb is 235 millimeters (9.25 in) tall. The monolithic sidewalk with curb and gutter features the same style curb, with a 1.5 meter (5 ft) wide and 127 millimeter (5 in) thick sidewalk.
Both applications on the subdivision are pretrimmed. The learning curve with slipform paving extended to the company in charge of the grade preparation, as well.
"It's one of the fights we've been having," Gostick explained. "They've been using a little bit too big of aggregates so we have been pretrimming because of it. Then we also do a second trim as we pour."
The concrete is produced by a local supplier and is a high early strength concrete with fiber mesh to accommodate the extreme weather conditions. It has a high strength, 35 MPa (5076 psi), to counteract the climate's freeze/thaw cycle and also the large amount of road salt the municipalities use during the winter.
Production with the Commander III on the two different applications has been difficult to measure due to challenging weather conditions and a constantly interrupted supply of concrete.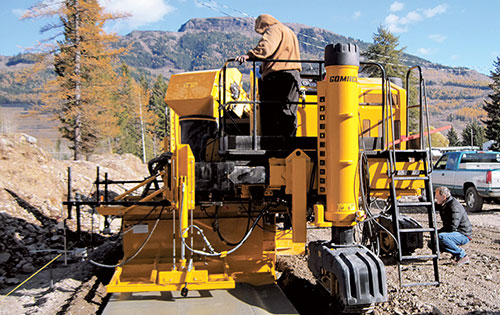 Bearspaw Contracting is using their new GOMACO Commander III to slipform both curb and gutter and monolithic sidewalk with curb and gutter on the new Whiskey Jack subdivision in Sparwood, British Columbia, Canada.
"Every time we try to book in a large pour, the mines will call right in the middle of it and there goes our concrete supply because they get first priority," Gostick said. "Sidewalk is nice because you see a lot of volume down on the ground, but curb and gutter is what the guys like. You can start the day on the corner of a subdivision and by the end of the day, you can't see where you started."
The Commander III is applying a smooth finish. Finishers simply apply a broom finish and cut in the joints. Joints in the new curb and gutter are every 2.1 meters (7 ft) and the monolithic joints are every 1.5 meters (5 ft).
Bearspaw started slipforming on the project last fall, but winter caught them before they could complete all of the work. This year, they are finishing the last of it, and then will start on another 6.5 kilometers (4 mi) of both applications for phase two of the development project.
The company is also looking to expand into other applications with their new Commander III and continue to grow their slipforming division. Bearspaw has bid on an 80 kilometer (50 mi) long, one meter (3.3 ft) tall Jersey barrier project on the western coast of British Columbia.
"The possibilities are very exciting for our company," Gostick said. "I have been pleasantly surprised by how willing our competitors have been to share information with us as we were looking to buy a machine and as we work with it. I guess that's the best advice I can offer to others new to this business... don't be shy to ask questions and don't hesitate, especially if it's free, to take any advice that you can get."
Subscribe to Receive GOMACO World Magazine