GOMACO World Index --- GOMACO World 41.1 - October 2013
Two-Track IDBI Earns Ride on an Arizona Project

McNeil Brothers' GP-4000 with IDBI has averaged smoothness under an 80 using the International Roughness Index to measure rideability on Arizona's Interstate 10 in Tucson.
McNeil Brothers, based out of Phoenix, Arizona, is at work on a two mile (3.2 km) stretch of interstate in Tucson. It is a project for the Arizona Department of Transportation (ADOT) that involves widening Interstate 10 to four lanes of traffic in each direction between Ruthrauff Road and Prince Road in Tucson. This new stretch of interstate was needed to better handle increasing traffic demands in the city. Entrance and exit ramps are also being rebuilt to improve access to the traveling public.
McNeil Brothers purchased a new GOMACO two-track GP-4000 paver with a 5400 series mold and IDBI for the 2013 paving season. They also equipped their new paver with two paver-mounted GOMACO Smoothness Indicator (GSI®) units.
"It's 84 feet (25.6 m) of paving at its widest point, including the four through lanes, shoulders, on/off ramps, and even some frontage roads that go along with it," Matt McNeil, Vice President of McNeil Brothers, explained.
McNeil Brothers has their mobile batch plant on site mixing the standard concrete mix with a 57 aggregate. Slump averages between one to 1.25 inches (25 to 32 mm). Fifteen trucks run between the mobile batch plant and the paver, each carrying a 10 cubic yard (7.6 m3) load. The concrete is dumped directly onto the grade in front of the paver.
The GP-4000 is paving the passes 24 feet (7.3 m) wide and 15 inches (381 mm) thick. The paver is equipped with three different bar insertion systems, including a front-mounted center bar inserter, two rear-mounted side bar inserters, and the IDBI that inserts the dowel bars for the transverse joint.
The IDBI is inserting 22 dowel bars across the width of the slab, spaced on 12 inch (305 mm) centers. Each bar is 18 inches (457 mm) long and 1.5 inches (38 mm) in diameter. Joints are every 15 feet (4.6 m).
McNeil Brothers are seasoned professionals paving with an IDBI and have been using one on a GOMACO paver since 1996. In fact, they helped GOMACO field test the In-The-Pan Dowel Bar Inserter (IDBI), as it's known today. They paved with it on a project in Phoenix. After a successful test and verification of accurate bar placement, they purchased one of their own for a project in Las Vegas, Nevada, and many others.
"If concrete placing is going to include dowels on a majority of the work, we feel like we need an inserter to be competitive...," McNeil said in 2006, in an article for GOMACO World, Vol. 25. No. 1. "We believe that this is easier and less labor intensive than setting dowel baskets. To us, that was always a fight."
Now, in 2013 after upgrading IDBI systems over the years, they're using GOMACO's newest dowel bar insertion system. It's already been used in the field on four-track pavers, but McNeil's is the first one for a two-track GP-4000 paver. Interstate 10 is the first of many highway projects they will pave with it.
"GOMACO has improved a lot of the IDBI's convenience issues and cleaned everything up," McNeil explained. "I like the use of smart cylinders, the bar cart works better, the painting and marking system is better, and the control system is easier... It's numerous small improvements from years of research and development to the IDBI that makes the system work so much better."
Another feature new to McNeil's and their paver are the paver-mounted GSI units for monitoring the smoothness of their newly paved roadway. ADOT uses the two-tenths blanking band to measure smoothness. McNeil Brothers is averaging less than one inch (25 mm) on the project. Their ride has been so good, they decided to see what the numbers averaged on the IRI.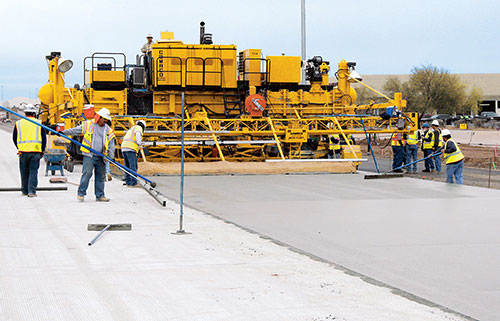 The paving passes are 24 feet (7.3 m) wide and 15 inches (381 mm) thick. The new roadway, at its widest point, will be 84 feet (25.6 m) with four lanes of traffic in each direction.
"We've consistently been under an 80 and I am impressed," McNeil said. "The GSI gives us instant feedback and you can watch what happens going through the paver, see what it does, and what effect it has on the ride, so we can make instantaneous changes instead of waiting until the next day."
The GSI also helps determine the optimum paving speed for maximum rideability by providing instant feedback on variable factors including the concrete itself. McNeil Brothers' production averages 250 cubic yards (191 m3) an hour on I-10.
"Different concrete mixes will like different paving speeds, or if you're going to pave faster you run the concrete a little bit wetter," McNeil explained. "The GSI takes the guesswork out of all of it. If we're running a little bit wetter, dryer, faster... We know how it's affecting our ride and have that information on the spot. That makes it a valuable tool."
A GOMACO T/C-600 texture/cure machine follows the paver applying a burlap drag finish with longitudinal tining and white spray cure.
Once this project is complete, McNeil Brothers will widen out their GP-4000 and IDBI to 36 feet (11 m) to start work on another one of Arizona's highway projects.
Subscribe to Receive GOMACO World Magazine