GOMACO World Index --- GOMACO World 41.1 - October 2013
A Commander
III

Goes to Work on an Airport Expansion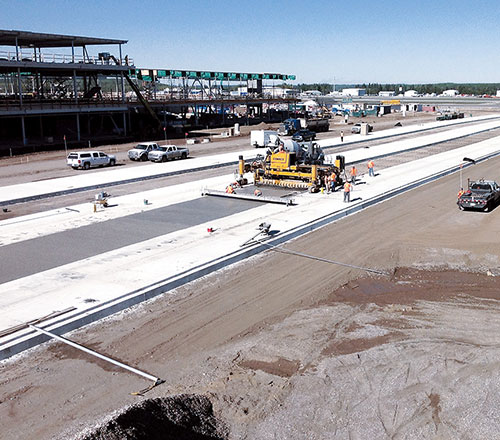 Fort McMurray Airport is constructing a new terminal building to accommodate increased passenger and air traffic from work at the Athabasca Oil Sands.
Fort McMurray in Alberta, Canada, is a modern-day boomtown due to its location close to the Athabasca Oil Sands, the world's largest known reservoir of crude bitumen. Since 2010, the city has seen an 80 percent overall population increase and is coping to keep up with the demand the extra people are making on its infrastructure.
One of Fort McMurray's biggest challenges is updating its airport. Its remote location makes air travel the preferred method for traveling to and from the city and the airport is working beyond capacity to try to accommodate all of the travelers. Fort McMurray Airport's terminal was built in 1985 and was designed for a maximum of 250,000 passengers. In 2012, 957,000 passengers passed through the terminal, more than triple its planned capacity.
The Fort McMurray Airport Authority (FMAA) is currently at work on a $258 million project to build a new 14,000 square meter (150,000 ft2) terminal building, five times larger than the current facility. The terminal will feature several upgrades, including an airport apron large enough to park eight aircraft.
Proform Concrete Services Inc., based out of Red Deer, Alberta, was at work on the project slipforming the new 262.3 meter (861 ft) long by 36.6 meter (120 ft) wide concrete apron. All of the concrete slipform paving on the apron was accomplished with their GOMACO four-track Commander III.
The current terminal building is located north of the runway. The FMAA made the decision not to expand that facility, but to instead build a completely new terminal south of the runway. It would mean all new construction.
It would also mean air travel would not be interrupted by construction at any time, because it would be business as usual on the north side of the airport away from the new project. It made Proform Concrete's work at the airport much easier.
"We had open space to work in, which was nice," Jason Ohlhauser, Project Manager for Proform Concrete Services, explained. "We could see the runway and the planes landing, but the FMAA put up a fence between us and them so we were working outside of the airport's border and our work was considered off-site."
Being off-site eliminated most of the security measures that often go hand-in-hand with an airport project. With one challenge taken care of, Proform Concrete could focus on another... getting their concrete through the heavy Fort McMurray traffic in a timely manner.
The 35 MPa (5000 psi) concrete was mixed at a batching plant in town, just a 20 minute drive away from the project in normal traffic conditions.
"Our production on the project was limited by concrete delivery," Ohlhauser said. "Around five o'clock is when traffic gets really crazy and it's just a sea of headlights. I knew there would be seven trucks on the road, but none on-site to supply our Commander III. That was the most challenging part of the project. We wanted to pave this project in six runs, each 286 lineal meters (938 ft) long, but because of Fort McMurray traffic we couldn't actually finish one run a day."
The Commander III was paving the new apron 6.1 meters (20 ft) wide and 380 millimeters (15 in) thick in six paving passes. Hand-finishing work behind the paver was kept to a minimum with special attention given to the edges. The six different paving passes needed to connect smoothly, without bumps, for the planes to travel across.
"We kept an eye on the edges the entire time, but the Commander III did a good job with them," Ohlhauser said. "We didn't do much finishing work, just a broom finish and it was very easy. Then we followed the paver with a T/C-600 texture/cure machine applying a white spray cure."
The new terminal is expected to open in the spring of 2014. When that happens, the old terminal building will be re-purposed as either a cargo center or a large FBO (fixed-base operator). Proform Concrete Services will continue to work in the Fort McMurray area. Their next project is slipforming new barrier wall with their Commander III along Highway 63 through the city.
Subscribe to Receive GOMACO World Magazine