GOMACO World Index --- GOMACO World 42.1 - November 2014
Overlay Success on an Important Nebraska Link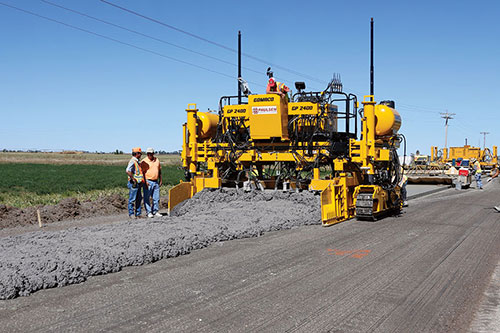 Paulsen Inc. is slipforming a half-width concrete overlay with their GOMACO two-track GP-2400 with Leica Geosystems 3D guidance system on the Darr Link near Cozad, Nebraska.
Darr Link is an important little road connecting Interstate 80 with Highway 30 near Cozad, Nebraska. It was scheduled to receive a new concrete overlay as part of the larger reconstruction of 12.5 miles (20.1 km) of Highway 30. Darr Link's overlay was scheduled right in the middle of Nebraska's fall harvest and consideration had to be given to the farmers whose fields bordered Darr Link, as well as the daily traffic traveling between the two major highways.
Instead of paving Darr Link in one 25 foot (7.6 m) wide pass, it would be paved half-width, one lane at a time, while allowing access to the fields for the farmers and other traffic. Paulsen Inc., based out of Cozad, is the contractor on the Highway 30 project, and they brought in their new GOMACO two-track GP-2400 paver with Leica Geosystems 3D guidance system for the half-width overlay.
"This was a project for the Nebraska Department of Roads, approximately 7800 feet (2377 m) long and 25 feet (7.6 m) wide," Dave Neill, Concrete Paving Assistant Manager for Paulsen, explained. "The road was existing asphalt and they wanted to update it to concrete for the longevity of it."
Five inches (127 mm) of the existing asphalt roadway was milled off, leaving two to three inches (51 to 76 mm) for a base. Then, Paulsen slipformed a new five inch (127 mm) thick concrete overlay on top of the milled and swept base. They had used their Leica Geosystems 3D guidance system before on the company's GOMACO GP-2600 paver, but this was the first time for the GP-2400 and its paving crew.
"Preparation is very important, especially with the surveyors," Neill said. "When we purchased the system, we hired two surveyors and they've been a real advantage. Still, we were pretty cautious on our first pour with the stringless technology, but it's pretty straightforward. If you see the paver heading towards the ditch, you know something is wrong, shut it down. Thankfully, that didn't happen to us and once we started using the system we saw so many advantages.
"You don't have to set any stringline stakes, which takes a lot of time and labor. You don't have finishers hitting a stringline and that all makes a big difference. On this project, where we had to maintain traffic as we poured one lane at a time, the biggest advantage was we didn't need the extra four feet (1.2 m) of offset for the stringline."
The concrete for the project is supplied by two of Paulsen's own ready-mix plants located in Cozad and Lexington. Fourteen to 16 ready-mix trucks supplied the GP-2400 paver, each carrying a 10 cubic yard (7.6 m3) load. The concrete is a state specified 47B mix design with slump averaging two inches (51 mm).
"We run our concrete a little wetter than a lot of people just for the fact of workability," Neill said. "I just feel that it lets the vibrators do their work a lot easier and you get better consolidation and a better finish behind the paver."
Paving production on the overlay averaged around 5000 feet (1524 m) per day with very little finishing work done behind the paver. They use five Leica total stations, set up at 300 foot (91.4 m) intervals, on their paving projects. They feel the extra total stations help them achieve a higher production rate. The two company surveyors set up and monitor the 3D guidance system and total stations throughout the day's pour and are also in charge of the leapfrogging process with the total stations.
Paulsen uses a Spanit® work bridge outfitted with a cure pump and spray bar to apply a burlap drag finish and white spray cure. They also modified their GOMACO PS-30 placer/spreader to apply the longitudinal tining on the new overlay.
"We revamped our PS-30, took the spreader head off and hung a tining broom on it," Neill said. "We're still steering it with the sensors, but instead of running them outside underneath where you'd normally have the string, we reversed and dropped them down. The steering sensor is running along the edge of the slab to keep everything straight and we're running the grade sensors off the top of the slab. It's doing a really good job for us."
The Nebraska Department of Roads requires longitudinal and transverse joints be saw cut into the new roadway every six feet (1.8 m). The Department also uses the IRI (International Roughness Index) to measure the smoothness of their new concrete roads.
"We need a reading from 68 to 93 for 100 percent pay, and anything above that they start taking a deduct," Neill explained. "A reading from 56 to 68 earns 102 percent bonus and 43 to 56 earns 104 percent bonus. We averaged a 63 with our incentive close to 103 percent, which we felt was really good dealing with the IRI and that many joints in the pavement."
The company credits good preparation and consistency of the concrete mix as the key to their smooth ride results. Overall, Paulsen is very pleased with their new two-track GP-2400 paver and Leica 3D guidance system.
"I've been with Paulsen now for 40 years and I have to admit I'm pretty old school and didn't know what to think about all of this new technology," Neill said. "It's all worked out well for us and we're just realizing how much we can really do with it."
Subscribe to Receive GOMACO World Magazine