GOMACO World Index --- GOMACO World 28.3 - December 2000
Tall Wall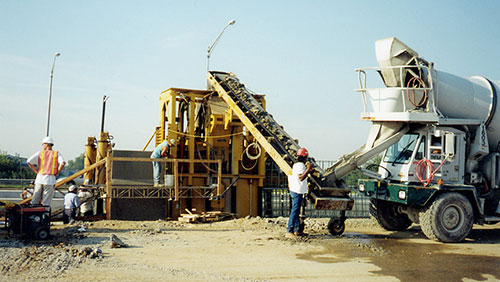 Indianapolis, Indiana, is the new home of what could be the tallest slipformed variable wall in the world. CRI Construction, Inc., based out of Larwill, Indiana, is using their GOMACO four-track Commander III to slipform variable wall at a height of 8 feet 8 inches (2.64 m).
CRI is slipforming approximately 8,600 feet (2621 m) of wall varying in height from 46 inches (1168 mm) to its tallest point of 8 feet 8 inches (2.64 m). The wall is only 28 inches (711 mm) at its base and 12 inches (305 mm) wide on top.
The base for the variable wall consists of a spread footer that is 12 inches (305 mm) high and either four feet (1.22 m) or six feet (1.83 m) wide, depending on project specifications. A stem, 32 inches (813 mm) wide and 16 inches (406 mm) tall, is slipformed simultaneously with the footer over caged steel.
CRI's success with the tall wall is accredited to mix design and vibration. The company is using a concrete mix free of any chemicals or additives to slipform the wall. Slump averaged one inch (25 mm). Expansion joints are placed every 326 feet (99 m).
"Getting the right mix design is very crucial," Chris Whitehead, vice president, said. "The higher you go, the more stone you want in it because the stone's not going to settle on you."
The number and placement of vibrators to consolidate the mix is also crucial.
"We're running a total of 12 vibrators. We have the variable wings on one side of the mold and we've got two vibrators on either side of each of those," Whitehead said. "Basically, starting at the top part of the wall and going down, we've got two, four, six and eight on a stagger on 18 to 24 inch (457 to 610 mm) centers."
Approximately 6500 feet (1981 m) of the variable wall will be slipformed this year with the balance scheduled for completion next year.
"We've done a lot of special things with our Commander IIIs, but this has to be the best," Whitehead said. "They're so versatile. We can do curb and gutter, bridge rail, train terminal and now this wall. What can I say? The machines are just good machines."
Editor's Note: If you know of anyone who's slipformed barrier wall taller than 8 feet 8 inches (2.64 m) in one pass, please contact the GOMACO World editor at kkrueger@gomaco.com.
Subscribe to Receive GOMACO World Magazine