GOMACO World Index --- GOMACO World 30.1 - January 2002
Extra Effort Results In A Record-Setting Day For L&M Concrete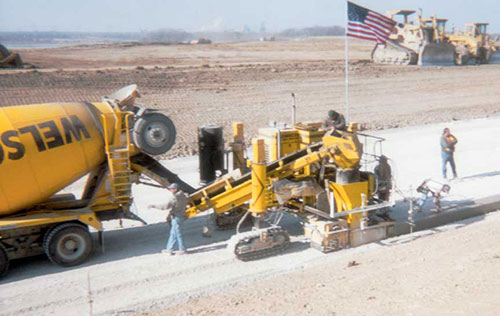 The weather was a perfect 65 degrees (18º C) and sunny on May 29, 2001, as L&M Concrete set a new personal record for total amount of curb and gutter slipformed in one day.
The company used their GT-3600 and contended with open traffic as they slipformed 11,100 linear feet (3,383 m) of B6-12 curb and gutter on an I-55 footage road in Joliet, Illinois. A total of 721 yd3 (551m3) of concrete was used to complete the project.
"It was the ideal project for a curb contractor," Les Cheney, owner of L&M Concrete, said. "I should have used both my GT-3600s on the project, but my ego made me do it with just one to go for our record."
A 10-man crew worked 11.5 hours to complete L&M Concrete's record pour.
"My crew really put in the extra effort," Cheney said. "There were several key people on my crew. You can't underestimate the importance of the chute man, Mark Prieboy; my uncle Don Cheney tooled in all the joints at every 15 feet (4.6 m); Tom Baltz, our mechanic, was on site all day but the machine never even sneezed; Rick Bishop operated the GT-3600; and Bill 'Stick' Potter set all of the stringline for the pour and also helped with the finishing.
"The city of Joliet was really happy with the quality of the project, too," Cheney added. "The day went off without a hitch. I could never say enough good things about the GOMACO team. That team includes the people in Ida Grove and my distributor here, Finkbiner Equipment Company. This project just proves GOMACO machines can definitely perform."
Subscribe to Receive GOMACO World Magazine