GOMACO World Index --- GOMACO World 30.1 - January 2002
The Barrier Specialists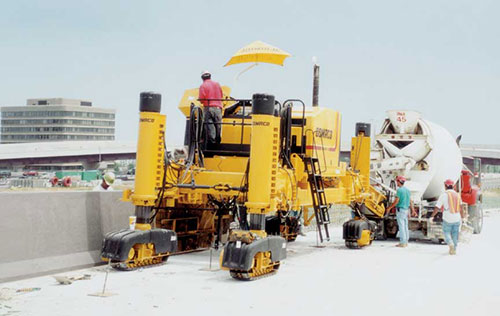 Tavares Concrete Company Inc. started in the concrete business in 1982. Their first slipform machine was a Commander II. Since that time, their fleet has grown to a total of four Commander IIs, three Commander IIIs, and most recently, a four-track new generation Commander III.
"We specialize in all kinds of concrete work, including curb and gutter," Eloi Lourenco, vice president of Tavares Concrete, said. "Barrier wall is our specialty."
Tavares Concrete's first project with their new Commander III was bridge parapet in Springfield, Virginia. Tavares had started the project with their 1978 Commander III and used their new generation machine to finish.
Overall, the bridge was 3,000 feet (914 m) long and Tavares was responsible for all of the concrete work except for the bridge deck itself.
"We're doing all the concrete wall, the parapet, the median barrier, curb and gutter, and sidewalks. It's been a pretty tough project," Lourenco said. "The new generation was just really finishing up this project. It was kind of a test for it and everything went well. We'll be using it more on the next phase of this project."
The first day the Commander III was on the job, production was approximately 700 feet (213 m) of 50 inch (1270 mm) parapet over steel reinforcing.
"You have to be careful with the steel," Lourenco said. "It can't be an inch (25 mm) off or it's going to cause problems. That's one of the keys to slipforming wall, the steel has to be where it needs to be."
A Virginia Department of Transportation A-4 concrete mix design with a 4000 psi (30 MPa) was used for the parapet. Slump averaged one to 1.25 inches (25 to 32 mm).
Four finishers worked behind the Commander III, two on each side of the wall. Deflection joints were cut into the wall every 24 feet (7.32 m). The wall was then broom finished and sprayed with a curing compound.
The key to any successful slipformed wall, according to Lourenco, is preparation.
"You have to take time to prepare the grade and the steel. It will definitely be a plus when you start pouring," he said. "If you have bad grade, you'll have a bad product. If you have bad steel, you'll have a bad product at the end no matter how hard you work. Preparation is definitely very important."
Since buying their first GOMACO, Lourenco and his crew have worked with the different control systems. Upgrading to each of the new controllers hasn't been a difficult process for Tavares Concrete.
"We've gone through the Analog, Micro, Network and now the G21 system," Lourenco explained. "It's no big deal and actually, it keeps getting easier. Before, you had to figure out what was wrong with a piece of equipment. Now, with the G21, it tells you itself what's wrong with it."
Tavares Concrete slipforms many different types and profiles of wall, including tall wall. Lourenco has a project coming up that he's anxious to test his new Commander III on. The next phase of the bridge project has approximately 200 feet (61 m) of tall wall. The wall itself will be 86 inches (2184 mm) tall and will be slipformed on an 18 inch (457 mm) footer.
Challenges are just part of everyday work for Tavares Concrete Company and something that has to be dealt with.
"There's a new challenge every day when you're slipforming," Lourenco said. "Just when you think you have it all figured out, something will come up with the potential to mess everything up... it could be bad grade or bad concrete.
"You can't just quit when that happens, you have to deal with it and the Commander III helps us do that," Lourenco explained. "It's very versatile. You can do the same thing three or four different ways. If the conditions aren't perfect, say you have bad grade on one side, the Commander III is a machine that can be changed around so you can do the job."
Subscribe to Receive GOMACO World Magazine