GOMACO World Index --- GOMACO World 32.2 - July 2004
Making Ride with a New Generation Paver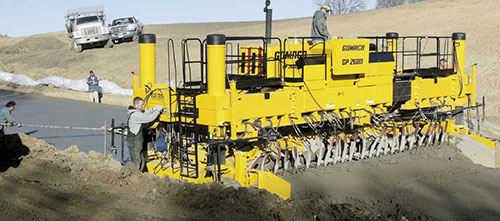 Eco Tech Construction L.L.C. specializes in concrete slipform paving in the Des Moines, Iowa, area and surrounding municipalities. Rideability has to be met on a variety of smoothness indexes and Eco Tech chooses to pave with GOMACO equipment to meet the challenging specifications.
"We have municipalities that have smoothness specifications on all of their arterial streets, whether it's a 35 or 45 mile (56 or 72 km) per hour zone or not," Troy Jones, general superintendent for Eco Tech, explained. "Different municipalities will have different specifications, from urban standard to writing their own addendum. We've been really satisfied with our GOMACO pavers and the rideability we get from them. Ultimately, if you're not concerned about the bumps you get, you should just as well buy another brand of paver."
When it was time to add another new paver to their fleet, Eco Tech chose the newest paver in GOMACO's line, the new generation GP-2600. The redesigned paver had several options that intrigued them, including the low-profile engine shroud, relocated vibrator controls, quieter operation, and the award-winning G21 digital operating system.
"The lower engine shroud and new operator's console with the G21 controller stands out as two key things to help the operator," Jones said. "We transport our pavers around the Des Moines area quite often and those two features also make it so much easier for loading and unloading. It's definitely quieter, too. There have been many steps that GOMACO has taken to improve their pavers and make them more user friendly."
The new paver was put to work on a project in Des Moines, building a new cul-de-sac road for the Rosewood development and the reconstruction of 38th Street, a main artery into the city of Urbandale.
The grade on the project is several feet below the haul road. The project also has to be slipformed over continuous steel reinforcing. The company brought in their PS-30 placer/spreader to work in front of the GP-2600.
"That PS-30 is really handy and we couldn't have done this job without it," Jim Cooley, paving supervisor for Eco Tech, said. "With good conditions, we can dump 10 yd3 (7.6 m3) a minute in that thing. It really makes the paving easy."
The new generation GP-2600 is paving 26 feet (7.9 m) wide with six inch (152 mm) integral curb on both sides. The new roadway is 8.25 inches (210 mm) thick.
The concrete mix design is a standard State of Iowa C4 mix with a 4000 psi (30 MPa) strength. Concrete slump averages two inches (51 mm).
Eco Tech works on a new roadway with their new generation GP-2600. The full-width paving is slipformed with integral curb on both sides.
"I use an eight inch (203 mm) thick pavement as my starting/stopping point for slump," Jones said. "If we're eight inches (203 mm) and above, we'll average two inches (51 mm). If we're at seven inches (178 mm) or below, we'll average 2.5 inches (64 mm), because the taller you get with an integral curb, the more top heavy it gets with wetter loads."
Finishing work behind the paver is kept to a minimum.
"Joints are placed every 15 feet (4.6 m) and we do the standard mopping, texture everything, and put a coat of cure on it," Cooley said. "This new paver has just worked great right out of the gates. It's quieter and the operator has more visibility over the whole project. It's just an all-around great package."
Eco Tech purchased their first GOMACO, an 8500 trimmer, in 1977. Four years later, they added a GP-2500 paver and it's been nothing but GOMACO pavers ever since. The company credits their equipment, along with careful job-site preparation, as the key to good rideability numbers.
"I think the most important thing a contractor can do is allow themselves enough time to thoroughly and properly go through the machine, give it a dry run without any material and look for any inconsistencies in your track-pad line," Jones said. "You just have to take the time to double-check exactly what they teach you at GOMACO University about the necessary prep work."
GOMACO University, according to Jones, is a valuable learning tool. Many of Eco Tech's employees have attended some of the University's week-long classes. Jones himself has attended nine times.
"Every time you go there, you pick up at least one thing," Jones explained. "If there's 10 to 15 ready-mix trucks sitting there and there's something wrong with the machine... what are you going to do? That one thing you've learned might save your company several thousands of dollars if it can solve the problem at hand."
Subscribe to Receive GOMACO World Magazine