GOMACO World Index --- GOMACO World 32.2 - July 2004
Working Out On The North Forty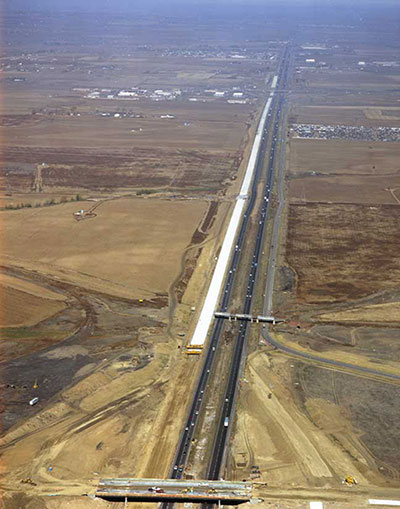 The North Forty, in farming lingo, is the landowner's upper 40 acres on the farm. Denver, Colorado's, North Forty is more far reaching. It involves the removal, reconstruction and widening of Interstate 25 north of Denver. Fourteen miles (22.5 km) of interstate will be rebuilt and widened from four lanes to six, while another 26 miles (41.8 km) will undergo an Environmental Impact study. The total area covered, a distance of 40 miles (64.4 km), stretches from Broomfield to Fort Collins.
Lawson Construction Company, based out of Longmont, Colorado, is currently at work rebuilding 7.5 miles (12.1 km) of the interstate. They are responsible for final trimming of the grade and all of the concrete paving, from ramps to shoulders to the actual interstate paving.
To accomplish this huge task, they have a wide array of GOMACO equipment at work on the project: a 9500 trimmer, a GT-6300 for shoulder work, an RTP-500 placer, a GP-2500 for ramp work, a GP-3500, two T/C-600 texture/cure machines, and a GP-4000 paver with an In-The-Pan Dowel Bar Inserter (IDBI) for interstate paving.
"There are a lot of obstacles to this project," Ken Lawson, president of Lawson Construction, said. "We have to work with traffic at all times and can't interfere with the flow on the interstate. The Colorado Department of Transportation (CDOT) put a lot of constraints on access and haul routes, and we had to do a lot of advanced planning on how we were going to deliver concrete to the project. That was always a challenge for us on this project."
Concrete delivery was just one of the many challenges Lawson faced on the project. They have to maintain access to exit ramps, which creates short paving runs in several areas, and rideability had to be constantly monitored. CDOT uses the one-tenth blanking band specification with a less tolerant bump margin. Cool Colorado temperatures required hot water be added to the mix to meet the concrete temperature specifications. Just simply managing a project of this size, too, creates challenges that have to be constantly dealt with to ensure the timely and successful completion of the project.
Starting at the very beginning of the paving process is grade preparation. A subcontractor was responsible for building the State of Colorado Class-6 base. Lawson then uses their 9500, sensoring off the paving stringline, to trim to the final depth.
"We'd rather our dirt contractor over-fill the grade instead of under-filling," Lawson explained. "The 9500 does an excellent job cutting and controlling grade. It's a monster when it comes to trimming and you can cover so much ground with that thing. It's a production animal."
Three different GOMACO pavers are at work on various sites across the project. The GT-6300 slipforms shoulders, sometimes stringless, when conditions are just too tight to set stringline.
"Sometimes we just don't have room for the stringline," Lawson explained. "We just run the paver on slope control and sensor off the new slab for grade control."
A GP-2500 paver slipforms the entrance and exit ramps. It's paving 25 feet (7.6 m) wide, which includes a 15 foot (4.6 m) driving lane and four and six foot (1.2 and 1.8 m) wide shoulders. An RTP-500 works in front of the paver placing the concrete over baskets.
Lawson's GP-4000 is paving 40.5 feet (12.3 m) wide while the IDBI inserts 36 bars, 1.5 inch (38 mm) in diameter, into the 13 inch (330 mm) thick slab. A GP-3500 spreads the concrete in front of the paver.
"We love to slipform pavement... as wide and as long as we can go," Lawson said. "We poured 3140 yd3 (2401 m3) in eight hours on our last pour and we couldn't keep enough concrete in front of the paver."
Lawson has two mobile batch plants set up close to the job site to provide concrete for the project. The two plants are capable of producing 400 yd3 (306 m3) an hour. The concrete is batched out and transported to the pavers with end-dump trucks carrying 8 yd3 (6.1 m3) loads.
"Since we're pouring in March and Colorado temperatures are still pretty cool, we're adding hot water to our mix," Lawson explained. "The temperature spec is 50 degrees F (10 degrees C), but we shoot for 60-65 degrees F (15.6 to 18.3 degrees C) because it works better for our saw guys."
Their concrete mix is a basic State of Colorado design with water reducer and air entrainment. Slump averages 1.5 inch (38 mm).
An Auto-Float® works behind the paver finishing and sealing the slab. A T/C-600 texture/cure machine follows applying a longitudinal tine and curing compound.
The State of Colorado utilizes the one-tenth blanking band for pavement smoothness. According to their specifications, 18 inches per mile (284 mm/km) is break even, with no reward or penalty given for the pavement. Anything under 15 inches per mile (237 mm/km) earns bonus.
"The one-tenth blanking band is pretty tight, and it picks up everything, even deep tining," Lawson said. "This 7.5 miles (12.1 km) is a total profile index project where the state takes all the profilograph readings from one end to the other and averages them for your final result.
"We won't have any trouble meeting specs. On this section of paving, our highest reading was 12 inches (189 mm) and our lowest was 9.4 inches (148 mm). That's pretty good paving."
Lawson's $65 million project on Denver's North Forty is scheduled for completion in August 2004. After the mainline paving is finished, they have some 60 inch (1524 mm) tall offset barrier wall to slipform before their obligations on the project are fulfilled.
Editor's Note: GOMACO would like to congratulate Ken Lawson and Lawson Construction Company for being named the 2003 Colorado Contractors Association (CCA) Contractor of the Year. CCA gives the award to the firm voted the best in safety, environmental excellence and service.
Subscribe to Receive GOMACO World Magazine