GOMACO World Index --- GOMACO World 32.2 - July 2004
The New Bangkok International Airport is Slipformed Exclusively with GOMACO Equipment
Work is currently underway on the New Bangkok International Airport (NBIA) in Thailand. The project, scheduled for completion in September 2005, has been in the planning stages for many years and is finally becoming a reality.
The new airport has been named Suvarnabhumi (pronounced soo-wan-na-poom) or "the golden land" by King Bhumibol Adulyadej himself, and will feature 6,060,280 ft2 (563,000 m2) of passenger terminals, 120 parking bays and 51 contact gates. After the first phase of construction, the new airport will be capable of handling 45 million passengers and three million tons of cargo per year operating 76 flights per hour on the two runways.
Suvarnabhumi is located in the Bangphli district of the Samut Prakarn province of Thailand, just 15.5 miles (25 km) from downtown Bangkok. Don Muang, Bangkok's current international airport, is the 22nd busiest airport in the world and the busiest in Southeast Asia. Thirty million passengers pass through Don Muang annually, stressing the airport's capacity to the maximum. Don Muang will become a domestic-only airport once Suvarnabhumi opens.
A large part of building the new international airport is the five apron areas covering 4,936,437 ft2 (458,595 m2). Six international consortiums bid the concrete paving project with the winning tender going to the IOT Joint Venture. The venture comprises three companies: Italian-Thai Development Public Company, Ltd. (ITD), Obayashi Corporation and Takenaka Corporation. ITD is in charge of the concrete paving for the aprons and operating the equipment.
The company had never worked on an airport or used a concrete slipform paver. ITD researched their options in the concrete slipform paving market and ultimately turned to GOMACO International's Tim Nash and GOMACO's distributor in Bangkok, Metro Engineering & Machinery Company, Ltd. (MEC). All of the concrete paving on the new international airport will be slipformed exclusively with GOMACO equipment.
"NBIA is a very high-profile project in our country and one of great importance," Somkiat Wattanalaowit, vice president (equipment control) of ITD, said. "As this is ITD's first airport job, our decision to go with the GOMACO/MEC paving team came down to three factors: MEC's local support team, GOMACO's 40 years experience in concrete paving and a slipform paving mold that we believe to be the most suitable in the industry for airport construction."
ITD chose GOMACO's newest paver for their project, the new generation GP-2600. The GP-2600's reputation for superior rideability results, easy operation with the G21 digital operating system, quiet operation and job-site mobility made it an easy choice. A PS-2600 placer/spreader, two new generation GP-2600 two-track pavers and two T/C-400 texture/cure machines were put to work slipforming the aprons.
"It's a unique experience for ITD and all concerned," Tim Nash, Asia-Pacific district manager for GOMACO, said. "It's the first slipforming on an airport in Thailand. It's ITD's first time using a mainline paver and, in addition to the the paver, ITD has invested in mechanization of the whole paving process, from concrete supply all the way to surface texturing and application of the curing compound. ITD is the first company in Southeast Asia to invest and employ this full complement, state-of-the-art paving train on a paving job."
The width of the new slabs varies between 16.4, 18 and 19.7 feet (5, 5.5 and 6 m) wide with a consistent depth of 17.7 inches (450mm). Longitudinal joints have bars that are 0.6 inch (16mm) in diameter and 3.3 feet (1 m) in length on 9.8 inch (250 mm) centers. The specifications did not call for continuous steel reinforcing, instead the aprons have transverse bars every 16.4 feet (5 m) with transverse expansion joints every 328 feet (100 m). No keyway is slipformed into the edge of the slab.
"We are quite happy with the new generation GP-2600," Wichien Roongrujirat, project manager for IOT Joint Venture, said. "With regard to the 29.5 feet (9 m) capable GP-2600 two track being chosen over a Commander III or a smaller competitive model for 19.7 feet (6 m) paver, we felt that the extra horsepower and heavier machine would be an advantage when paving 16.4 to 19.7 feet (5 to 6 m) wide and 17.7 inches (450 mm) thick on a very aggressive paving schedule. We also like the maneuverability of the two-track paver on the apron works compared to a four-track machine."
Paving 16.4 feet (5 m) wide, daily production averages approximately 3281 feet (1000 m) per paver in a 13-hour shift. Concrete slump averages 1.2 inches (30 mm).
"The ability to adjust the vibrators on-the-go and the mold for edge slump is invaluable," Uwe Keienburg, ITD's paving consultant, said. "The consistency of concrete slump required for slipform paving is sometimes difficult to achieve out of the batch plant so the edge slump adjusters make it convenient for us to adjust for the clean, 90-degree edge that we're required to have. Also, with the ability to accept a higher slump range, we're able to increase our paving production. My goal is to get up to 3281 feet (1000 m) every day."
Paving on Suvarnabhumi started in April 2004 and should be finished by May 2005, on track for the September 29, 2005, opening of the airport.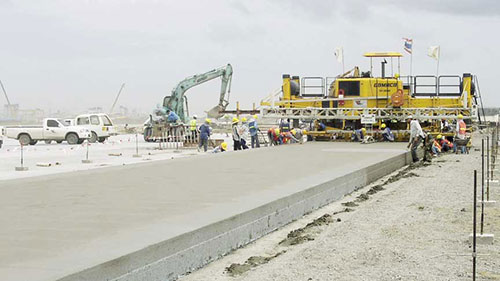 The width of the new slabs varies between 16.4, 18 and 19.7 feet (5, 5.5 and 6 m) wide. All of the slabs are 17.7 inches (450 mm) thick.
Subscribe to Receive GOMACO World Magazine