GOMACO World Index --- GOMACO World 32.2 - July 2004
Slipping Around Tourists and Tombstones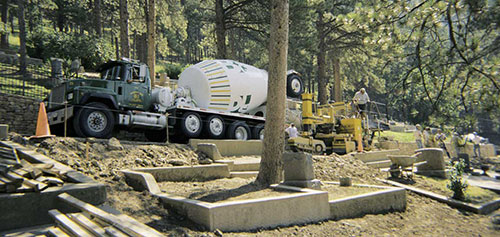 A GT-3200 slipforms channel footing as part of the process of recreating the original curb and gutter in Mount Moriah Cemetery.
The historic town of Deadwood, in the Black Hills of South Dakota, is home to many stories and legends of the wild west. It's the town where Wild Bill Hickock was shot and killed by Jack McCall on August 2, 1876, while playing poker. In his hand were aces and eights, forever labeling that series of cards as a "dead man's hand." Wild Bill was buried in Mount Moriah Cemetery just a few days later.
Mount Moriah, today, is a national historic cemetery and is the final resting place of not only Wild Bill, but Calamity Jane and other notorious figures from history. The cemetery is open year round to tourists for both walking and bus tours. All of the tourist traffic has been taking its toll on the aging roads and measures were taken last summer to repair them.
The new curb and gutter had to be built to look like the original to keep the cemetery historically accurate. This meant the new standing curb would have to be built on top of a channel footing. Plans originally called for the channel footing to be handformed, a task that would take at least three weeks. Timing on the project was critical and the general contractor couldn't allow that much time for the footing. They turned to subcontractor Tru-Form Construction Inc. in Black Hawk, South Dakota, to slipform the channel footing with their GT-3200.
"I'm sure there's no way you could have done this slipforming job at Mount Moriah with any other machine," Matthew Leon, president of Tru-Form Construction, said. "We're always looking for new things to do with our machine and we've never worked in a cemetery before. Normally, when dealing with tight clearances, you're talking about trees. On this project the tight clearances were trees, rocks and tombstones."
Clearances were sometimes an inch (25 mm) or less and a few times the GT-3200 had to be taken off-line and freehanded for short distances. There was simply no room for stringline and sensor wands in certain areas.
"Jon LaFramboise is my partner and machine operator, and he did a fantastic job on the project," Leon said. "He's had a lot of experience on the GT-3200 and this project would have been really difficult to accomplish with someone new to the machine."
Tru-Form slipformed approximately 2330 feet (710 m) of the channel footing. The profile of the channel was 18 inches (457 mm) wide, six inches (152 mm) thick with a seven inch (178 mm) by three inch (76 mm) deep cutout.
Tight clearances weren't the only challenge on the project either. Tru-Form had to deal with the narrow roadway, only 10 feet (3 m) wide in areas, and not wide enough for both the GT-3200 and a concrete ready-mix truck. They slipformed the project last summer during peak tourism time in the Black Hills. The cemetery remained open the entire time and the safety of the tourists in job-site working conditions was a major concern. A majority of the project was slipformed on grades up to 10 percent with several radii adding to the overall difficulty. Despite all the challenges, the project was slipformed in just two days.
"We had to pour on the job twice because of logistics and getting the concrete trucks in and out of the job site," Leon explained. "The road was only 10 and 12 feet (3 and 3.7 m) wide. It took some effort to coordinate the trucks. What we had to do was order our mud ahead of time and all of the trucks were sent to the turn-around loop in the back of the cemetery. Basically, we had all of them in there ahead of the GT-3200. They were stacked up in order so they could back around the turn-around loop and get to us."
When the road narrowed to only 10 feet (3 m) wide, they had to bring in a skid steer. There simply wasn't enough room for both the paver and the trucks. The concrete trucks unloaded into the skid steer's bucket before it was dumped into the GT-3200's hopper.
"Some of the project was pretty steep, a 10 percent grade or more, with several different radii to maneuver around," Leon added. "We've done a 2.5 foot (0.8 m) radius on a parking lot before so these larger ones weren't too big of a deal. When we set our pins, we feel that the closer together we can get them, the better, especially in a radius. It makes a nice smooth radius with the machine and in Mount Moriah, our pins were very close. They'd be five feet (1.5 m) apart at times and only 12 inches (305 mm) apart on some of the radii and tight clearances."
The biggest challenge on the project, though, was the tourists. Mount Moriah Cemetery remained open to walking tours while Tru-Form was working.
"They were curious and just wanted to see what we were doing," Leon said. "It's a lot different than having a closed job site. We had to pay extra attention to safety with backing the concrete trucks in and out, keeping tourists out of our wet channel and being careful with the historical markers. We didn't want to disturb anything we weren't supposed to."
The cemetery remained opened to the public and Tru-Form had to take extra precautions to keep tourists safe.
The channel curb was slipformed with a state of South Dakota 4000 psi (30 MPa) concrete mix. Slump averaged two inches (51 mm).
"We just let the machine do the finishing work," Leon said. "It was coming out so nice that we didn't need to do anything else to it. I just talked with the job superintendent and he said they didn't have any trouble setting their standing curb in our channel footing. He was happy with the way the project turned out and happy customers are good customers."
With work complete at Mount Moriah Cemetery, Tru-Form Construction is looking forward to other challenging projects. The company averages between 25,000 to 35,000 feet (7620 to 10,668 m) of curb per year with their GT-3200.
Tru-Form's guidelines for completing quality projects are simple.
"You have to work closely with the general contractor and the supplier of your concrete," Leon explained. "Have all of your stringline set properly before you start pouring and make sure your grade is accurate so you're trimming just the right amount. You want to do your homework ahead of time and be prepared for what you're going to get into because you don't want to have to make adjustments in tight spots."
Owning a GOMACO curb and gutter machine is helpful, too.
"For such a small machine, the GT-3200 is really versatile," Leon added. "That machine has been good for our company and very reliable. Tru-Form Construction is very pleased with the service and the products from GOMACO."
Subscribe to Receive GOMACO World Magazine