GOMACO World Index --- GOMACO World 39.2 - November 2011
The First International 4400's Slipforming Versatility on the Tropical Island of Mauritius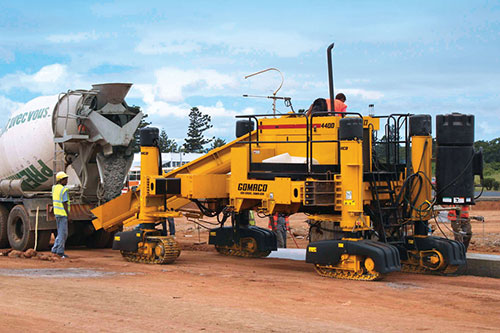 Colas Maurice introduced slipform paving to the island of Mauritius last year with a GOMACO Commander III. This year they purchased a new 4400 to slipform various applications from the right-side and left-side of the paver.
The small tropical island of Mauritius, located just east of Madagascar and the African continent, is working to improve its infrastructure and roadways as tourism rates continue to rise. Colas Maurice, an island-based contractor, introduced slipform concrete paving to Mauritius last year with a GOMACO Commander III. This year, as the company's workload continues to increase, they've added another slipform paver to their inventory, the new GOMACO 4400 barrier machine.
The left-side and right-side pour capable 4400 was immediately put to work on several different projects, including right-side pour barrier wall, right-side pour 500 millimeter (19.7 in) tall slotted drain, and left-side pour U-channel. They will slipform approximately 8800 meters (28,871 ft) of 500 millimeter (19.7 in) tall U-channel.
The 4400's Hook-and-Go mold mounting system with U-channel mold is sideshifted out and vertically lowered to slipform the profile below the existing grade of the roadway.
Christian Plasse with Colas Maurice notes that some of the things they liked most about the machine included the ease and speed you can switch from the right-side to the left-side pour configuration, the telescopic positioning and quick attachment of the mold, the stability of the machine, and the smooth and accurate functioning of the automatic grade and steer systems using the G+ controller.
"They are extremely happy," Bryan Schwartzkopf, GOMACO's Director of International Sales, said. "They also liked the production of the auger, the absence of machine vibration for the operator, how quietly it runs, the great visibility from the operator's platform, and the side-to-side movement of the control panel, as well as the ability to lock the control panel away and out of sight."
Colas Maurice's 4400 is the first to work internationally. To read about the first domestic 4400, please click here.
Subscribe to Receive GOMACO World Magazine