GOMACO World Index --- GOMACO World 36.1 - January 2008
The Commander
III

- The Chicago-Land Workhorse

After several years of planning, several hurdles jumped, and several miles of new concrete slipformed, Chicago's south extension of I-355 is scheduled to open soon. The new 12.5 mile (20 km) long I-355 corridor will run through 13 suburbs from the I-55 interchange in Bolingbrook/ Woodridge, to I-80 in New Lenox. The project is part of the south extension of the North/South Tollway by the Illinois Department of Transportation (IDOT) and Illinois State Highway Toll Authority (ISHTA).

Lorig Construction, based out of Des Plaines, Illinois, is just finishing up their second season of work on the massive project. They've had their full line of GOMACO equipment at work on the project, including both a 9500 trimmer and 9500 placer, a C-450 bridge deck finisher, a PS-2600 placer/spreader, GHP-2800 four-track paver, T/C-600 with skewed tining kit, and a four-track Commander III.

As the projects wind down, Lorig is finishing up work on the shoulders and ramps portion and utilizing their Commander III and 9500 placer.

"We did the initial pave with our GHP-2800 and PS-2600, and that was paving 24 feet (7.3 m) wide," Wally Simpson, Senior Project Manager for Lorig Construction, said. "We're following that up with the Commander III to add on the 12 foot (3.7 m) shoulder lanes and the 16 foot (4.9 m) ramp lanes."

Working conditions on the project are less than ideal, especially for the ramp work. The paving lane is usually surrounded by steep banks that leave very little room for the finishers to work and no room for a haul road for the concrete dump trucks.

Lorig Construction is an expert at dealing with Chicago's tight job-site conditions and knows how to work around them. It's where their 9500 placer is most effective. The 9500 works out in front of the paver, running on the grade. The concrete dump trucks can back down the ramp, empty into the 9500's hopper and drive out again. Laborers work directly behind the 9500 placing and installing baskets at 15 foot (4.6 m) intervals. The Commander III follows the placer and slipforms the new ramp 16 feet (4.9 m) wide and 12 inches (305 mm) thick.

By the time the entire project is completed, Lorig will have paved approximately 190,000 square yards (158,859 m2) of concrete pavement. All of the concrete is produced by local ready-mix suppliers and is an IDOT and ISHTA-approved mix design. Slump averages 1.5 inches (38 mm).

Production averages 170 square yards (142 m2) per hour in the tight conditions.

"The project determines our production rate," Simpson explained. "It always varies, but in some of these tight corridors, we've kicked out 240 square yards (201 m2) per hour. The equipment can handle the high speeds and volume if we can get the area to work in."

All of Lorig's pavement on the project has to meet certain smoothness requirements to earn bonus. Smoothness is measured by using the zero-blanking band.

"It adds another level of difficulty to this project," Simpson said. "Anything under a 20 on the zero-blanking band qualifies us for bonus and we always seem to fall right in that range of quality pavement."

Finishing work behind the paver is kept to a minimum. An Auto-Float® mounted on the back of the Commander III finishes and seals the surface of the new ramp. The Auto-Float is a feature that, according to Simpson, was a must have, especially when dealing with the zero-blanking band requirement.

Finishers behind the paver work with bull-floats, tine the new slab on a skew and cut in joints every 15 feet (4.6 m).

With the day's pour complete, it's time to load up the Commander III and take it to the next project in the Chicago-land area. Lorig's machines never stay in one place for very long and their mobility and ease of transport is one of the features that drew them to GOMACO.

"For us, in this market, we have to be very flexible and the Commander III gives us the option to pick up and go," Simpson said. "We have jobs all over the city, so this equipment is always mobile. It doesn't sit here and wait for the next pave. It moves. It's one of the reasons the Commander III is so nice. We just pack it up and go. We'll be pouring in one place today and we'll pave again tomorrow somewhere else. The Commander III is just a workhorse for us."
Select any photo for a closer view.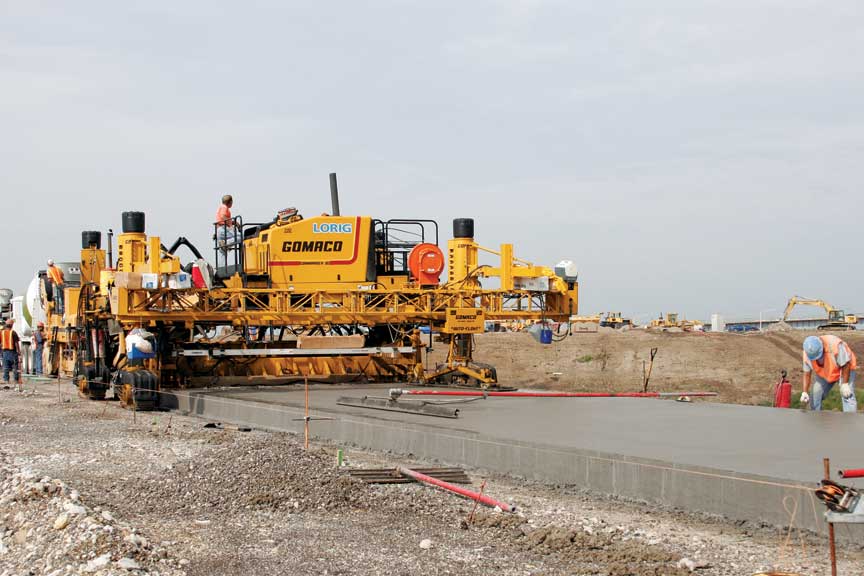 Lorig's Commander III is the company's workhorse, and gives the company the flexibility of moving from project to project in the Chicago, Illinois, area.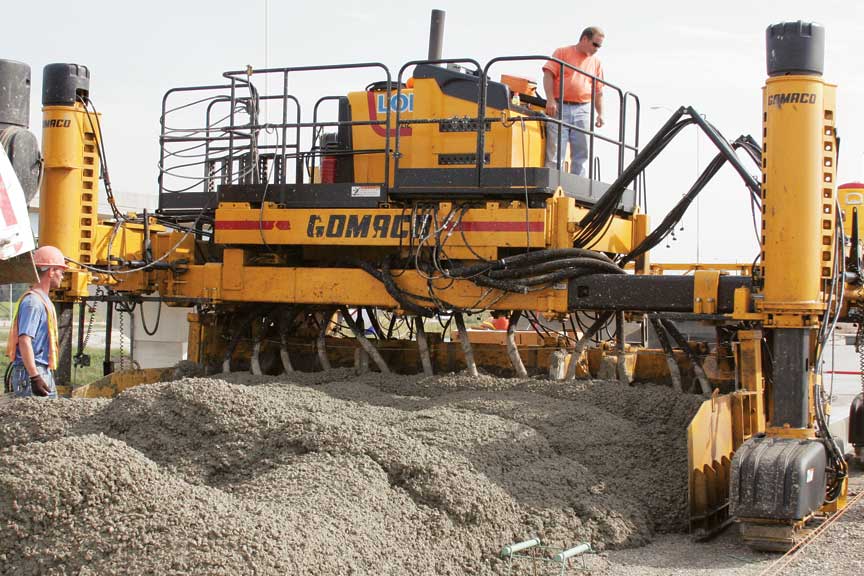 Tight conditions on the project require a 9500 placing concrete, with workers setting baskets on grade behind the 9500, directly in front of the four-track Commander III.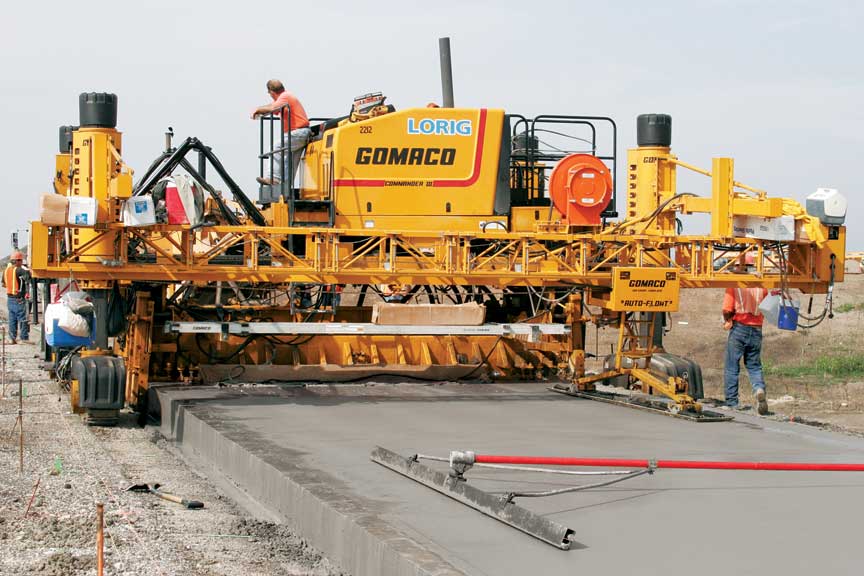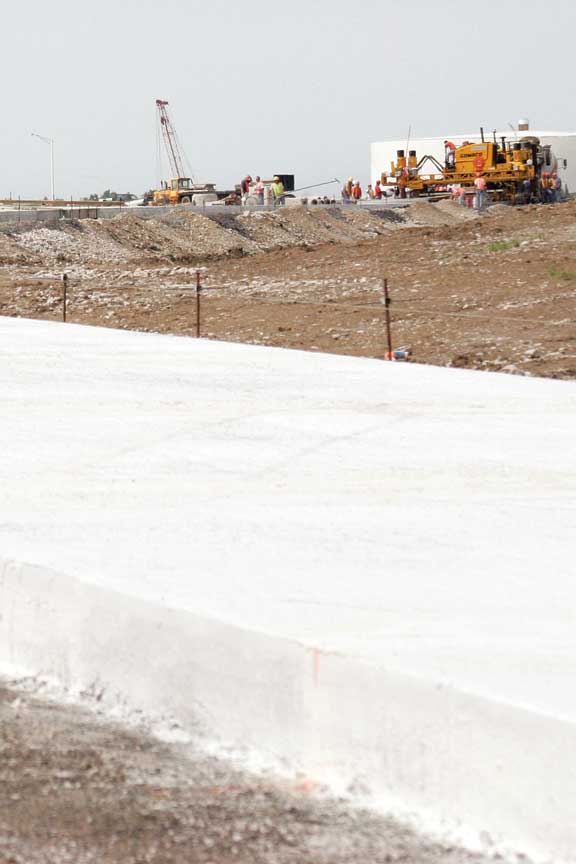 The Commander III is slipforming the new ramp 16 feet (4.9 m) wide and 12 inches (305 mm) thick.