GOMACO World Index --- GOMACO World 36.2 - July 2008
Goodbye Friend...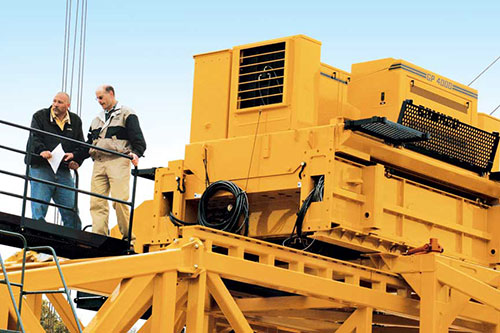 Jim Homan (left) stands on top of the canal paver as it is assembled in Ida Grove, Iowa. He was GOMACO's project manager for the All-American Canal equipment.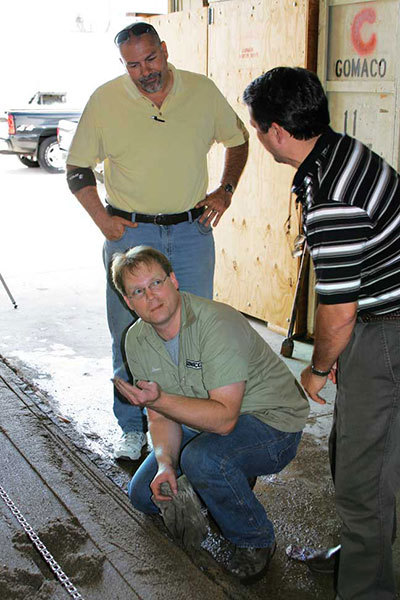 Jim oversees the successful testing of the water stop inserter device in Ida Grove.
James "Jim" Homan, 44, of Ida Grove, passed away unexpectedly on Monday, April 28, 2008, from the effects of a cerebral aneurysm.
He was the Assistant Manager of GOMACO Research and Development, and had worked at GOMACO for 16 years.
His primary duties were to guide and assist the R&D staff in their projects. Jim also worked closely with manufacturing to assist with any production issues or questions. He spent a good deal of his time working with outside vendors to specify which products would be purchased.
Jim was involved with many GOMACO projects over the years. He was the primary designer for the GHP-2800 and GP-2600 pavers, the PS-2600 placer, and the Commander III. Most recently, he had taken the lead in the design and development of the All-American Canal project.
"I was shocked, saddened and broken hearted. It's like losing a son or a brother," said Gary Godbersen, GOMACO President and CEO. "He was always there to help, not only GOMACO, but the fire department, country club, friends and family. Jim could reach outside the walls of GOMACO and work with customers, vendors and others. The relationships that he had and the people's lives that he touched were evidence of his knowledge, work ethic and sincerity. We will all miss him."
Survivors include his wife, Ann; three sons, Andy Homan (23) of Sioux City, and Nate Homan (19) and Nick Homan (16), both of Ida Grove.
Editor's Note: This special edition of GOMACO World is dedicated to Jim's memory. The All-American Canal would be his last great project and its success is a testament to the man he was. His dedication, professionalism and knowledge will be severely missed here at GOMACO and for everyone who knew him. Most of all though, we will miss his friendship.
–Kelly Krueger, GOMACO World Editor
---
A Note From Coffman Specialties, Inc. -
"It is with great regret we received word that Jim Homan passed away. There are no words that can replace him or match the feelings of his family and close friends. We can only offer our warmest regards, thoughts, and prayers. This past week I was interviewed by Ms. Kelly Krueger of GOMACO in regard to the All American Canal; and she asked me why I wanted to bid and build a project like the canal, especially since we had never performed this kind of work before...
In life we choose paths for our journey, with some yearning for the experience and adventure. For years Carl Carper (retired GOMACO Vice President), Marty Keane (Coffman Specialties) and of course, myself, had talked about building a canal with GOMACO slipform equipment, never knowing if the opportunity would present itself. When we choose paths, hopefully we have the proper bearings and plan, but it is never for sure what the road may bring; some execution of the framework of our thoughts and some unexplainable experiences/fate. We were successful in getting a contract for a canal and we began our journey with GOMACO. This is when we truly got to meet and know Jim Homan. I can tell you it was an honor and privilege to work with Jim on this project. His dedication, abilities, and absolute commitment to the goal was truly one of the greatest pleasures I have experienced in my career. And the end result speaks for itself. My only regret is I won't get the chance to shake his hand one more time.
I'm sure Jim lived his life with the same commitment and passion for which his family enjoyed with great devotion. The loss of Jim can never be explained, excepting faith and knowing his path was chosen by others. They say the Lord works in mysterious ways, but it is times like this that test our faith. I know he will be received by the Lord with open arms to continue his journey. Please give our/my regards to Jim's family and convey to them our deepest feelings. I know my life has been touched by a truly grand person, for which I will be always thankful for the opportunity to share a place on a path with him.
Best Regards and God Bless, Jim, Colleen, Kevin, Kelly, and Dylan Coffman - Coffman Specialties, Inc., San Diego, California"
The All-American Canal In GOMACO World Vol. 36, No. 2
Page 1 - Page 2 - Page 3 - Page 4 - Page 5 - Page 6 - Page 7 - Page 8 - Page 9 - Page 10