GOMACO World Index --- GOMACO World 36.2 - July 2008
Page 6
Finishing the Transition Areas –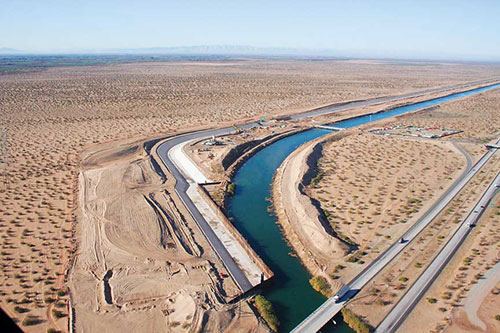 The initial transition area, near the Interstate 8 bridge, was designed in order to connect to the existing unlined canal. Half of the canal prism is paved and sheets of metal create a dam to keep the water from the existing canal from flooding the new canal.
Coffman's canal project includes transition areas where the new canal meets up with structures from the existing canal, drop structures or dams.
"The transitions are areas where we're marrying up to existing facilities," Jim Coffman said. "The transitions are also areas where we have to be able to integrate the new canal into the existing canal configuration. There are four transition areas and each one is built longitudinally in half. We can actually put water in half of the area so we can then go and work where the existing canal with the water flow was."
The smaller paving runs in the transitional areas required a different approach. The trimmer and the paver were too big to fit in the smaller areas.
Grade was excavated like normal, with the tractors and scrapers running on GPS controls. The final canal trimming, though, was accomplished with Coffman's GOMACO C-650 with trimming undercarriage attachment.
The water stop machine was modified to do the concrete finishing work. A C-450-style undercarriage with four foot (1.2 m) finishing cylinder was mounted to the machine instead of the vibrating pan. The RTP-500 placed concrete into an RC Conveyor which placed the concrete down the slope of the canal. The water stop machine was operated backwards, or in reverse, to allow the concrete to be finished first by the cylinder finisher and then the transverse water material was inserted to form the joint. Longitudinal joints were hand-tooled in using a device Coffmans created. The work bridge followed behind with workers applying the final finish and spray cure.
The All-American Canal In GOMACO World Vol. 36, No. 2
Page 1 - Page 2 - Page 3 - Page 4 - Page 5 - Page 6 - Page 7 - Page 8 - Page 9 - Page 10