GOMACO World Index --- GOMACO World 36.1 - January 2008
Come See Us in the Central Hall at CONEXPO-CON/AGG 2008!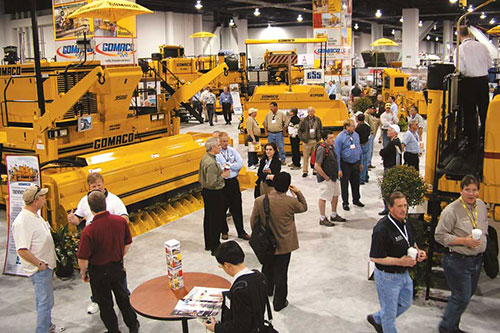 GOMACO's booth at CONEXPO-CON/AGG 2005 was a busy one. We can't wait to see you again in Las Vegas in 2008!
CONEXPO-CON/AGG 2008 will be March 11-15, 2008, in Las Vegas, Nevada. Our display will include both a right-side and left-side pour GT-3400. The new GT-3400 is the first curb and gutter machine to be remote controlled. Stop by and check out the GT-3400, as well as our full line of curb and gutter machines.
We will be introducing our new optional G22 digital control system in the United States. The G22 has a dual language feature and an easy to understand graphical display with colored pictograms depicting the machine's functions. Several machines in our booth will have the G22 system featuring the various languages of the world.
The GOMACO booth will also feature our complete concrete paving line for all of your airport, highway, city streets and ramp projects. A complete paving train, a PS-2600 placer/spreader, GHP-2800 paver, and T/C-600 texture/cure machine, will be just one of the highlights in our booth. A GSI® (GOMACO Smoothness Indicator) will complete the paving train. The revolutionary GSI provides smoothness for both wet or cured concrete and asphalt slabs. With the GSIToolsTM software application, it can also be used ahead of the paving operation to provide a grade accuracy analysis of the subgrade and/or stringline before the paving takes place.
A four-track Commander III with V2 variable width mold will be part of the paver display. The V2 makes width changes fast and simple and can make the changes on-the-go for tapered slabs.
The new C-450 and C-750 cylinder finishers will be on display showcasing our new features to finish flat slabs, bridge decks and slopes.
GOMACO will be in Booth #C-5657 in the Central Hall of the Las Vegas Convention Center. We can't wait to see you there to discuss your concrete paving needs for 2008!
Subscribe to Receive GOMACO World Magazine