GOMACO World Index --- GOMACO World 36.3 - December 2008
GOMACO Pavers Turn A Kansas Fort White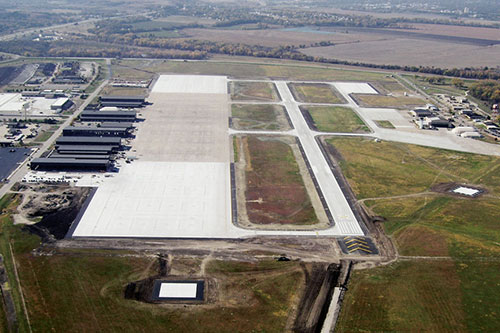 Three different contractors used their GOMACO paving equipment to slipform an ocean of concrete on different projects at Fort Riley.
Fort Riley, located in central Kansas, has been an integral part of the United States' military history. The fort goes back to 1852 when its initial purpose was to protect the pioneers and traders traveling along the Oregon to California and Santa Fe Trails. Throughout the years, its mission has changed with the developing country. Its vast history includes episodes with Lieutenant George Armstrong Custer, Wild Bill Hickock, the 10th Cavalry Regiment of Buffalo Soldiers, and most recently, the home of the 1st Infantry Division, nicknamed the Big Red One. Fort Riley has also become a pivotal base for the war on terror.
Recent expansions at the base have created a building boom at the Fort to accommodate the arrival of more troops and equipment. The expansion means more barracks, offices, maintenance facilities, hangars for helicopters, other support facilities, and an enormous amount of concrete paving.
Three contractors, using their GOMACO equipment, had a substantial amount of work at the Fort in 2008. Loch Sand and Construction Company, from Maryville, Missouri, had 330,000 square yards (275,913 m2) of paving, which included rebuilding the Fort's runway and taxiways, aprons, and other structures. Smoky Hill L.L.C., based out of Salina, Kansas, rebuilt almost two miles (3.2 km) of roadway through a busy section of the base. The third contractor, Permanent Paving Company, from Overland Park, Kansas, slipformed 175,000 square yards (146,318 m2) of concrete for a new beddown facility and vehicle maintenance area.
Loch Sand and Construction Company –
Pieces of Fort Riley's existing runway date back to World War II, with extensions added on at different intervals. In general, though, the runway was very deteriorated and practically non-usable. A substantial portion of the project at Fort Riley included rebuilding the runway, surrounding taxiways and aprons.
One of the Corps of Engineers' requirements for the paving contractor for the project was they had to have paved an airfield project within the last three years of $15 million or more. Burns & McDonnell, the design/build sponsor on the project, turned to Loch Sand and Construction Company. Loch Sand has accomplished several extensive airport paving projects, including work at the Charles B. Wheeler Downtown Airport and Kansas City International Airport, both located by Kansas City, Missouri.
The long-time GOMACO owners moved their fleet of equipment and paving crews onto the project in late 2007. Harsh winter weather halted work until spring of 2008, when paving began full speed.
"Very seldom do you get a job like we had at Fort Riley where you're able to pave day after day after day, because you have such a large area and different areas to be working in," Rob Loch, Treasurer and Equipment Manager for Loch Sand, said. "We had 330,000 square yards (275,913 m2) of concrete pavement. That's a lot of area that has been turned white out there."
The list of GOMACO equipment on the project is an extensive one... two 9500 trimmers; a PS-2600 and PS-60 placer/spreader; a GP-3000, GHP-2800 and GP-2500 paver; two T/C-600 texture/cure machines; and a Spanit® Work Bridge.
The project for Loch Sand began with the removal of the Fort's existing runway. The old concrete was hauled away, crushed and recycled for other building projects on the base. The next project was completing 160,000 cubic yards (122,329 m3) of grading. After that, 10 inches (254 mm) of base rock was laid for the new runway, taxiways, helicopter aprons and other facilities on their portion of the project.
The two 9500s were used to trim both the subbase material during the grading process, and the final rock base. One 9500 was set to trim 18 feet (5.5 m) wide while the other was trimming 16 feet (4.9 m) wide. When trimming the subbase material, the depth of the cut varied between three to four inches (76 to 102 mm). On the base rock, they trimmed a 0.5 to one inch (13 to 25 mm) depth with the excess trimmed rock being placed in the adjoining lane.
The runway was paved with their PS-2600, GP-3000, and T/C-600 GOMACO paving train. The new light aircraft and helicopter runway is 4500 feet (1372 m) long and 150 feet (45.7 m) wide. Paving passes were 25 feet (7.6 m) wide and 8.5 inches (216 mm) thick.
Loch Sand's second paving train, a PS-60, GHP-2800 and T/C-600, was used to pave the aprons and other projects at Fort Riley. The scope of their project is very impressive.
"After the runway, we started paving the taxiways," Jerry Wilson, Vice President of Field Operations for Loch Sand, said. "There were six taxiways that join the new runway to the new aprons. The helicopter fueling apron was paved next. Then we had a compass pad where the helicopters line up and align their compass to true north. Next on the list was a Red Cross emergency helicopter pad. Also, there were five new helicopter maintenance buildings being built there and we poured the aprons for those. Our last section of work was a 40,000 square yard (33,444 m2) parking lot for a maintenance building. All total, we've poured 90,000 cubic yards (68,810 m3) of concrete."
Concrete was supplied by Loch Sand's on-site batch plant. Their concrete mix design was one they had developed in-house and used on other airport projects.
"It's a LaFarge slag cement blend with 620 pounds (281 kg) of cementing material, which includes fly ash," Wilson said. "We use local limestone with a 1.5 inch (38 mm) top size and local Kansas River sand. It's a mix design that our guys developed. It finishes very well and stands up on the edges."
Slump averaged 1.75 inches (44 mm). Concrete was delivered to the paving site by dump trucks, each carrying 10 cubic yard (7.6 m3) loads.
A concern during the paving process was slipforming over helicopter tie downs. The aprons required 270 tie down locations, each with four inserts or spots for tying down the helicopter.
The project required slipforming over 270 tie down locations, each with four inserts for tying down helicopters, on the apron.
"We built a rebar mesh with threaded pipes at each tie-bar location so we could preset them at the correct elevation," Wilson explained. "Each tie-bar mechanism was 0.5 inch (13 mm) lower than the surface of the apron so the snow plows don't hit them during the winter time. We'd cover those mechanisms, which are two inches (51 mm) by four inches (102 mm), with a piece of duct tape so they didn't fill with concrete as we paved over them. A finisher on the Work Bridge would follow behind the paver, clean out the tie down mechanism, and finish around it."
The Army Corps of Engineers, who oversaw the project, had guidelines and specifications the new pavement had to meet. The requirements included both a smoothness and an edge slump specification.
"We can only have 0.125 inch (3 mm) edge slump on the edge and only 0.25 inch (6 mm) out of vertical on the vertical side," Wilson said. "Those are strict specifications and we had zero trouble meeting them. The GOMACO equipment built that edge even better than those specs.
"Airports have a different criteria for smoothness than highway projects. The airport criteria was seven inches per mile (110 mm/km) for smoothness on a 2/10ths blanking band. That's pretty easy to make. Our average was 0.49 inch per mile (8 mm/km), which is 14 times smoother than the specification required."
Loch Sand gives credit for their quality pavement to both their crew and their paving equipment. Their slipform paving crew, which was almost 50 workers at the peak point of the project, has worked together for several years and are experienced at paving concrete. They also have personnel on site who know how to set up their GOMACO pavers to produce their razor sharp edges.
"We let the machine make our edge," Wilson said. "We have a very strict regimen of adjusting our machines, the edge slump and the troweling finish of the pavers, so it's making the sharp, square edge through the machine. No matter how good our people are working behind the paver, the concrete has to come out smooth, because that's the one thing the finishers can't fix."
Loch Sand has produced a quality project for Fort Riley. All of the 330,000 square yards (275,913 m2) of paved concrete exceeded specifications and no grinding had to be done.
"Loch Sand's company motto is: There is no substitute for quality," Mike O'Riley, Loch Sand's Project Manager at Fort Riley, said. "That's what you see out here on this project and every project we do."
Smoky Hill L.L.C. –
The project requirements called for the removal and replacement of almost two miles (3.2 km) of existing asphalt roadway. The section of roadway is one of the busiest thoroughfares through Fort Riley and connects the town of Ogden, Kansas, with the main barracks housing 20,000 soldiers and part of the base's company headquarters. The old roadway was quickly deteriorating. The road's bad condition, combined with steep grade and a hairpin curve, was the source of several accidents. Winter's snow and ice often caused the road to be closed down for safety purposes, but that caused congestion on other roads around the base.
Smoky Hill L.L.C. was awarded the contract to remove the dangerous road and replace it with concrete. The project involved straightening portions in the new roadway while trying to decrease the steep slope. The new road had to be built as far away as 100 feet (30.5 m) from the existing one in some places. Smoky Hill also hired a subcontractor to blast and remove 25 feet (7.6 m) through a rock cut, then used that material in a 20 feet (6.1 m) fill area. Even with that measure, they are still having to slipform a portion on a six percent grade. Superelevations and crowns in the new grade and pavement created additional challenges for them. A roundabout and tank crossings were other unique aspects of the project.
This year the family-owned company decided to add a third paving crew. In the past, they have always paved with GOMACO equipment. And once again, they chose GOMACO when they purchased a new GP-2600 two-track paver for their new paving crew.
"We do a lot of urban pavement," Garett Cloyd, Project Superintendent for Smoky Hill, explained. "We specialize in chopped up projects and we do a lot of conveyor paving, because we have no room for a placer/spreader in a lot of areas where we work. We need a paver that is diverse and able to be changed pretty readily."
Their GP-2600 is equipped with a front-mounted conveyor system to help deal with their different projects' tight conditions. The conveyor system on the paver has a belt that can be extended for concrete trucks to unload on. Once the truck is empty, the belt is retracted and the truck can drive on through. The belt places the concrete onto the grade in front of the paver. The auger/strike-off moves the concrete across the width of the open-front mold on the paver. The system gives Smoky Hill a placer/spreader option without having to find the space for an extra piece of equipment on the project.
Before any concrete paving can take place, the grade has to be properly prepared. Smoky Hill had some demanding specifications from the Army Corps of Engineers that had to be met on the two different layers of base material. They used their GOMACO 9500 to trim each layer of base to the exacting specification.
"The Corps of Engineers would inspect after every time we trimmed," Cloyd said. "They would dig down and check the depth of the lime. If we were deficient more than 0.25 inch (6 mm), there was a penalty. The same was true for the second layer of rock. Each 12 foot (3.7 m) wide trimming pass for both layers of base material was inspected for depth accuracy."
The Corps never found their grade to be deficient.
Stringline set on the project controlled the trimmer's steering. Carefully setting the stringline allowed Smoky Hill to trim the grade with the same superelevations the paver would put into the concrete roadway. Topcon sonic sensors helped control the grade, which ensured an accurately trimmed base.
"This road had eight supers in it and some of them were pretty lengthy," Cloyd said. "We also had multiple places where we went from a crown, transitioned into a super, and then went back to a crown again. We watched the stringline very closely and were pretty detailed with it to make sure the lime and the rock were where they need to be.
"We had a tank crossing that needed to be 0.5 inch (13 mm) thicker pavement than the rest of the road. We just marked that out ahead of time. The trimmer operator just dialed the sonics down 0.5 inch (13 mm) when he trimmed the lime so it was a little bit deeper. We laid our rock on top of that and did the trimming in one pass. We didn't have to go back to cut the tank crossing out. We also trimmed our aggregate shoulder as we went, so it was all one pass off the same stringline."
When it was time to start paving on the project, Smoky Hill took on the biggest challenge first... the roundabout. They had slipformed one before with their GOMACO GP-2500 paver, but this would be their first roundabout, on the first pour of the project, with the new GP-2600
"It was the first pour on the job and we had a lot of people watching us, from Corps of Engineer personnel to civilians," Cloyd said. "It went very well. The roundabout had a 100 foot (30.5 m) radius and we started and stopped paving in the exact same spot. They're big enough around that by the end of the day we just had to put burlap out and wash the paver. We left the paver there for three or four days until we got our needed cure time on the concrete. Once we got cure time, we made a ramp, tracked the paver out of there and moved it to the site of the next pour."
With the roundabout complete, paving on the rest of the roadway started. All of the concrete pavement on the project was 24 feet (7.3 m) wide and nine inches thick. Production averaged between 110 to 120 cubic yards (84 to 92 m3) per hour. A portable batch plant was set up on-site to supply the concrete. The mix was a Corps of Engineers approved design with slump averaging 1.5 to 1.75 inches (38 to 44 mm).
Another interesting aspect of the project, and something not found on an ordinary road project, was the tank crossing.
"There's a tank crossing through the roadway, an intersection for the tanks to travel across while moving from their battalion headquarters on the base out onto the firing range," Cloyd said. "The Corps wanted the intersection to have a little bit thicker concrete, 0.5 inch (13 mm), and it has a little bit different steel in it for extra reinforcing."
The paver is equipped with a frame-mounted bar inserter on the front. It placed a transverse bar every 24 inches (610 mm) for the longitudinal joint. A timing wheel on one of the paver's tracks measured out the spacing of the bars automatically.
A second wheel on the track is part of Smoky Hill's vibrator monitoring system. They are using a Minnich Auto Vibe II system, which helps them control vibrator vpm, as well as monitors and stores their vibrator data.
"It wasn't a specification on this Corps of Engineers' project, but the Kansas Department of Transportation started requiring it a few years ago," Cloyd explained. "They wanted to be able to have a readout of our vibrator frequencies and other measurements. With this Auto Vibe II, we just take the card out, take it into the office, and we can print them out a chart showing all of our information."
The GP-2600 is putting down a lot of concrete for us and is giving us the smoothness that we're wanting," Cloyd said. "We're having no problems with our edges. They're standing up beautifully. It's putting out good concrete and we're pretty pleased with it."
Permanent Paving Inc. –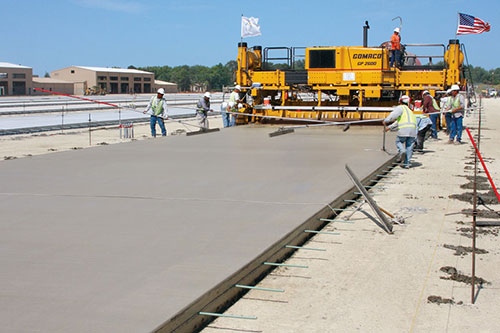 One of Permanent Paving's projects is a 15 acre (6.1 ha) vehicle maintenance parking area that will eventually hold approximately 700 of the bases' HMMWVs, or High Mobility Multipurpose Wheeled Vehicles.
The Custer Hill Beddown Facility at Fort Riley is a design-build project including Brigade and Battalion Headquarters, Company Operations, and Tactical Vehicle Maintenance facilities totaling over 175,000 square yards (146,318 m2). The new complex will provide operational facilities for a Sustainment Brigade attached to the 1st Infantry Division.
Mortenson Construction, based out of Minneapolis, Minnesota, is the prime contractor on the project. They partnered with Permanent Paving Inc. to complete the concrete paving portion of the huge project. They are also responsible for paving a new 15 acre (6.1 ha) Vehicle Maintenance parking area at Fort Riley.
"The Custer Hill project, for us, is a series of roads, hardstand paving for parking, tank haul roads, curb and gutter and just an array of different projects," Steve Bird, President of Permanent Paving, said. "Our second job, the Vehicle Maintenance area, is just one large lot with a little bit of curb and gutter."
The Custer Hill Beddown Facility's 85,000 square yards (71,069 m2) of concrete paving was broken down into five different segments.
"The beddown project was pretty challenging and required us moving our paver around to different areas within the project," Bird said. "We brought in our Commander III four-track and paved 24 feet (7.3 m) wide, 8.5 inches (216 mm) thick with it. The Commander was nice on the project, because it's so easy to move and transport."
The project has 14,000 lineal feet (4267 m) of 24 inch (610 mm) wide Type B curb and gutter with a 12 inch (305 mm) back and a six inch (152 mm) face. Permanent Paving used their GOMACO GT-3600 curb and gutter machine to slipform the profile.
The Vehicle Maintenance parking area had 90,500 square yards (75,667 m2) of concrete pavement. The company brought in their new two-track GOMACO GP-2600 paver to slipform the 360 feet (110 m) wide by 650 feet (198 m) long lot. They paved the lot in 15 paving passes, each one 24 feet (7.3 m) wide and 8.5 inches (216 mm) thick. Number five epoxy-coated tie bars were inserted into the side of slab on 30 inch (762 mm) centers.
The concrete on the project was supplied by a portable wet batch plant located close to the projects. The concrete was a 650 flex mix with an average slump of one inch (25 mm). The concrete was delivered to the pavers in specially-modified ready-mix trucks that dumped directly on grade.
"We rigged the trucks with paving mixers so each one was capable of unloading their 10 cubic yard (7.6 m3) load in approximately 60 seconds," Bird said.
Project specifications did not have a smoothness requirement for Permanent Paving's work at Fort Riley. They did, however, have a straight-edge requirement, allowing only a 0.25 inch (6 mm) deviation in 16 feet (4.9 m). The specification was easily met by both the Commander III and GP-2600.
"We didn't do any grinding or have to take any kind of corrective measures on our concrete pavement," Bird said. "Our GOMACO pavers have worked out great for us and we're really pleased with them. They do everything we ask and our operators really like running them.
"GOMACO has always been there for us and their service is top notch. Any company can sell a machine, but what's important to me, even more important than pricing, is the service they provide. GOMACO always finds a way to help us out."
Subscribe to Receive GOMACO World Magazine