GOMACO World Index --- GOMACO World 40.2 - October 2012
THIS is a Paving Project– The I-15 CORE -
Page 1
Provo, Utah – The scope of the I-15 Corridor Expansion Project (I-15 CORE) in the state of Utah is nearly unprecedented because of the size of the project and the short completion deadline. Twenty-four miles (38.6 km) of removal and replacement of Interstate 15 between Lehi and Spanish Fork, widening the number of traveling lanes by two, for up to six lanes in each direction in 35 months. The new 364 lane miles (586 km) of concrete roadway will be slipformed 12 or 12.5 inches (305 or 318 mm) thick for a total of 2.67 million square yards (2,232,460 m2) of Portland Cement Concrete Pavement (PCCP). All of it slipformed with GOMACO pavers.
The I-15 CORE is the largest construction project the state of Utah has ever undertaken. The only project that can compare was also on the I-15, the I-15 Corridor Reconstruction, in Salt Lake City, which began in 1997. The Utah Department of Transportation (UDOT) project rebuilt 16 miles (25.7 km) of freeway using a design/build approach with a budget of over $1.3 billion and a four and one-half year completion schedule. The project was completed in the summer of 2001, well in advance of the 2002 Winter Olympics held in Salt Lake City and the surrounding area. The consortium in charge of the project used all GOMACO pavers to slipform that project.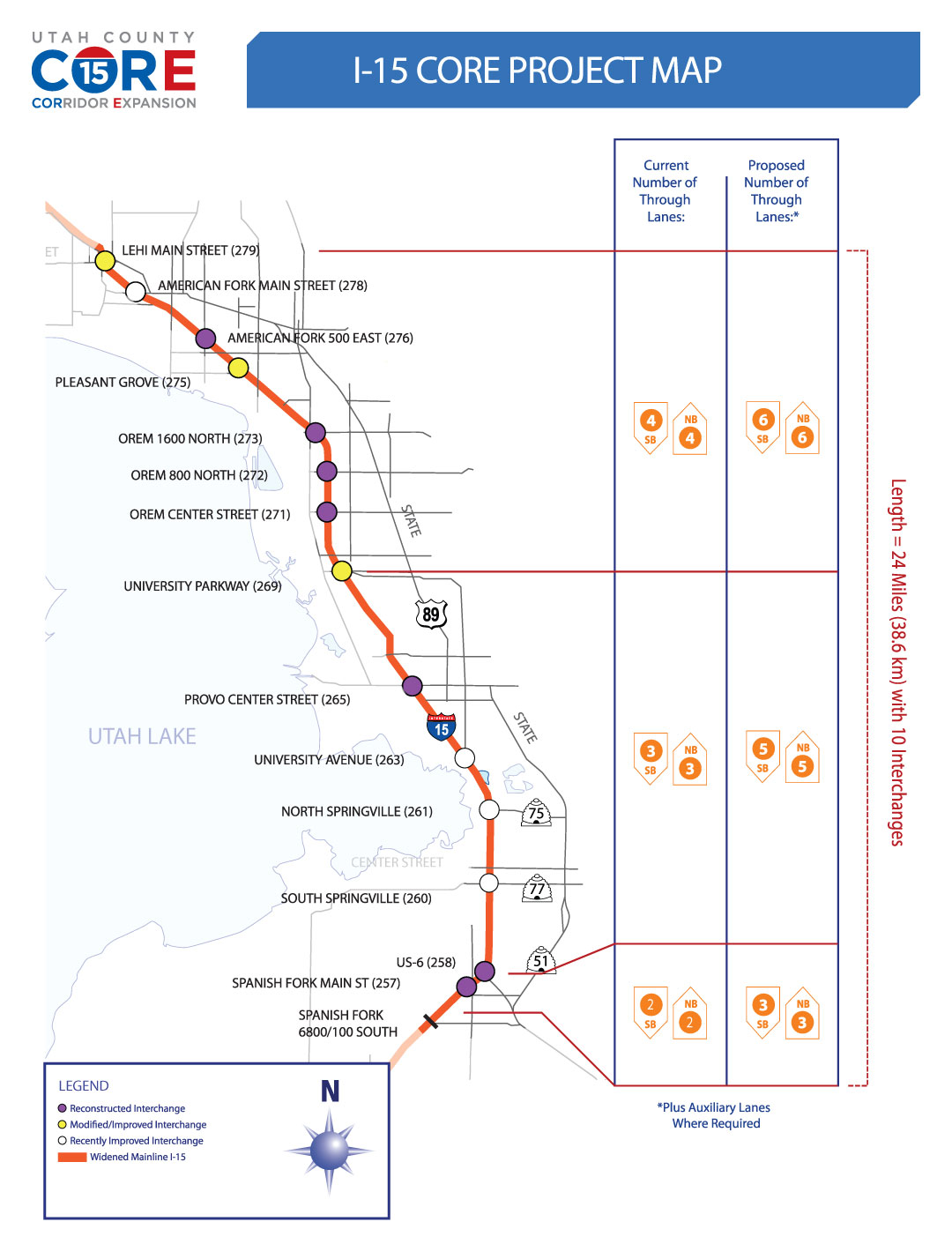 Fixed-Price/Best-Design Format
Ten years ago, UDOT began the process to reconstruct more of the I-15. They wanted to rebuild an additional 43 miles (69.2 km), starting from where the I-15 Corridor Reconstruction project ended at 123rd South in Salt Lake City going south to the town of Payson. Funding was assigned to the project in 2007.
"Then, like most states, we went through some hard times and the funding for the project was cut from $3.25 billion all the way back to $1.725 billion," Robert Stewart, Deputy Project Director for the CORE Project, explained. "We were forced into this decision point and had to ask the question, 'What do we do?'
"We decided to put this project out in a fixed-price/best-design format. Essentially we said, 'Contractors, here's the contract amount. You propose to us what you can build for the contract amount of $1.2 billion.'"
It's the first time UDOT has used the fixed-price/best-design format on one of their projects. They had carefully watched the success of the I-69 Interstate project through St. Louis, Missouri, and determined it would work on the I-15. UDOT created a specific list of "must have" requirements for their project, as well as an additional list of "wants" for the bidding consortiums.
"It's the first time we've done this in Utah... the concept of just putting out a price and having proposers come back to us and tell us the scope," Stewart said. "We asked for a project completion date for December 2014. And among other things, we specified a 30-year design, and we required the proposers to submit a life-cycle cost analysis. In our goals and values that we provided to the proposers, we emphasized that we preferred concrete. We didn't require it, but we preferred it."
A total of twenty-one pieces of GOMACO equipment, from a GP-4000 slipform paver to a GT-3600 curb and gutter machine, paved 24 miles (38.6 km) of Interstate 15 in Utah.
Three GOMACO GHP-2800s are at work on the project. Two of them are four-track pavers with IDBI attachments, and one is a two-track machine.
Utah County I-15 Corridor Expansion - GOMACO World Vol. 40, No. 2
Page 1 - Page 2 - Page 3 - Page 4 - Page 5 - Page 6 - Page 7 - Page 8 - Page 9 - Page 10 - Page 11 - Page 12 - Page 13