GOMACO World Index --- GOMACO World 40.2 - October 2012
THIS is a Paving Project– The I-15 CORE -
Page 9
Cold Weather Paving
Thirty-five months to complete a 24 mile (38.6 km) long project is a very aggressive time frame. Especially in an area of the United States, like northern Utah, that experiences below-freezing temperatures, snowstorms, and other inclement weather during the winter months. UDOT had to set aside their standard cold weather paving protocols and work together with PRC to redefine them for the project to be completed on time.
"We realized to meet the schedule we were going to have to challenge our standard processes for cold weather paving," Butterfield explained. "So, we all sat down and started to push that envelope and see how far we could go while still guaranteeing the integrity of the paving.
"What was it going to take to guarantee performance criteria? Instrumentation in the pavement? Instrumentation monitoring temperatures in the subgrade/subbases? Monitoring surface temperatures during placement and, more importantly, after placement? To answer all of these questions, we had to redefine cold weather concrete paving on this project."
New project standards required a temperature of 32 degrees F (0º C) and rising before paving could begin. When temperatures reached 35 degrees F (1.7º C) and began to fall, paving was finished for the day and protection had to be put in place. The new concrete was wrapped in blankets, plastic, or both, and ground heaters were put in place. Underneath the protection, the temperature of the concrete was constantly monitored with mid-depth maturity readers and thermometers taking surface temperatures every three minutes. The concrete maintained a temperature in the mid to high 60 degrees F (15.5º C) under protection until it reached 3500 psi (24 MPa).
"Then, once we reached maturity, the state has a requirement not to exceed a 20 degree F (11.1º C) temperature drop in 12 hours," Steeves said. "We had to bring the temperature of the concrete down slowly as to not essentially shock the concrete by suddenly opening up that cocoon of heat and have the concrete surface susceptible to that hard freeze in temperatures.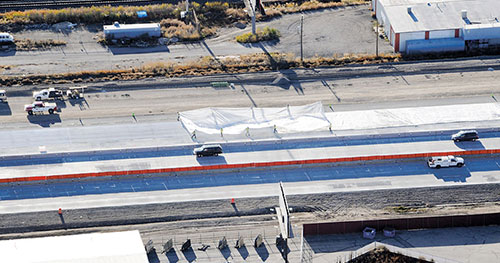 Paving through Utah's below-freezing winter temperatures was necessary to complete the enormous project on time. PRC worked together with UDOT to reinvent cold weather paving protocols and establish new standards for winter paving.
"We would slowly turn down the temperature on the ground heaters before shutting them off completely. Then we'd pull the covering and just let the temperature of the concrete naturally drop to the low 30 degrees F (-1.1º C). From there, we let Mother Nature take care of the temperature. We documented the entire process and now have books and books of information on internal and surface concrete temperatures. It was a pretty labor intensive process, as well. At one point, we had five miles (8 km) of pavement covered with plastic and 3000 blankets."
Everyone involved will attest to the fact that the cold weather concrete paving wasn't successful because of the new requirements, it worked because of the communication and trust between UDOT and PRC.
"It was people talking with people to come up with the best strategy," Stewart said. "It was a pretty rigorous process, but we felt comfortable going through it with PRC because of their level of sophistication and the trust that we had developed over the course of the project."
Utah County I-15 Corridor Expansion - GOMACO World Vol. 40, No. 2
Page 1 - Page 2 - Page 3 - Page 4 - Page 5 - Page 6 - Page 7 - Page 8 - Page 9 - Page 10 - Page 11 - Page 12 - Page 13