GOMACO World Index --- GOMACO World 40.2 - October 2012
THIS is a Paving Project– The I-15 CORE -
Page 8
PRC's Commander
III

s

Three Commander III four-track pavers are at work on the I-15, each slipforming its own unique application. One Commander III is equipped with the GOMACO V2 mold for paving variable widths; the second features cantilever paving with a sidemounted zero-clearance mold and a 13 foot (4 m) paving package mounted underneath the Commander III; and the third is used for conventional paving of widths up to 20 feet (6.1 m).

"I really like the Commander III, it's probably my favorite machine on the project," Steeves said. "They transport easily to go where we need them to go and they do what we need them to do in almost any kind of paving situation."

Areas of the I-15 are superelevated with the northbound lane up to four feet (1.2 m) higher than the southbound lanes. Because of the time frame of the project, the 54 inch (1372 mm) tall median barrier was slipformed before the median shoulder could be put in place. When this happens, PRC tacks expansion material to the barrier and uses their cantilever Commander III to pave a 12 foot (3.7 m) wide zero-clearance median shoulder up against the new barrier. The cantilever paving kit is also a useful tool when traffic management configurations restrict paving lane widths.

PRC has made modifications to their Commander III that allow them to pave zero-clearance on either side of the machine. After the sidemounted mold is attached, it's just a matter of entering the proper information into the G22 controller and paving can begin.

"We have paved anywhere from 13 to 17 feet (4 to 5.2 m) wide zero-clearance," John Campos, Paving Superintendent for one of the Commander IIIs, said. "It has performed well and we have done a lot of paving with it. You need a good concrete mix design with a consistent slump, between 1.5 to 1.75 inches (38 to 44 mm), and you can pave all day, right down the line."

When it's not needed for zero-clearance work, the sidemounted mold is removed and the Commander III is ready for standard paving. By keeping their 13 foot (4 m) mold mounted underneath the paver, it's a fast transition from a specialty to standard paving application.

"There are a lot of things you can do with this machine and with concrete," Campos said. "You just have to be knowledgeable and know what you want to do."

The Commander III with V2 mold has been at work paving a variety of applications at different widths. Some of the changes are made on-the-go on ramp transitions, while others are hydraulic width changes before the pour begins. It has paved eight to 14 foot (2.4 to 4.3 m) wide shoulders and also variable width ramps making on-the-go width changes from 10 to 13 feet (3 to 4 m). They will also leave the V2 mold mounted under the paver and attach a 13 foot (4 m) sidemounted, zero-clearance mold to the Commander III.

"It has been quite the asset to this whole project," Gough said. "It sure helps out being able to make that slide on-the-go and being able to change the dimensions of your pour as you need. The Commander III has a little bit of everything to add to the more difficult areas, all the way up to slipping a typical lane."

The V2 mold includes a spreader plow to control the head of concrete in front of the mold. The plow has both horizontal and vertical movement, and can be operated manually or set on automatic for maximum concrete control.

"I really like the plow on the Commander III and it's really filled a spot here for us," Gough said. "We're doing a lot of paving with a two percent or more slope. The plow helps us keep the material where it needs to be.

"The Commander III is very capable of doing just about anything that needs to be done, and we're proving that on this project."
Select any photo to enlarge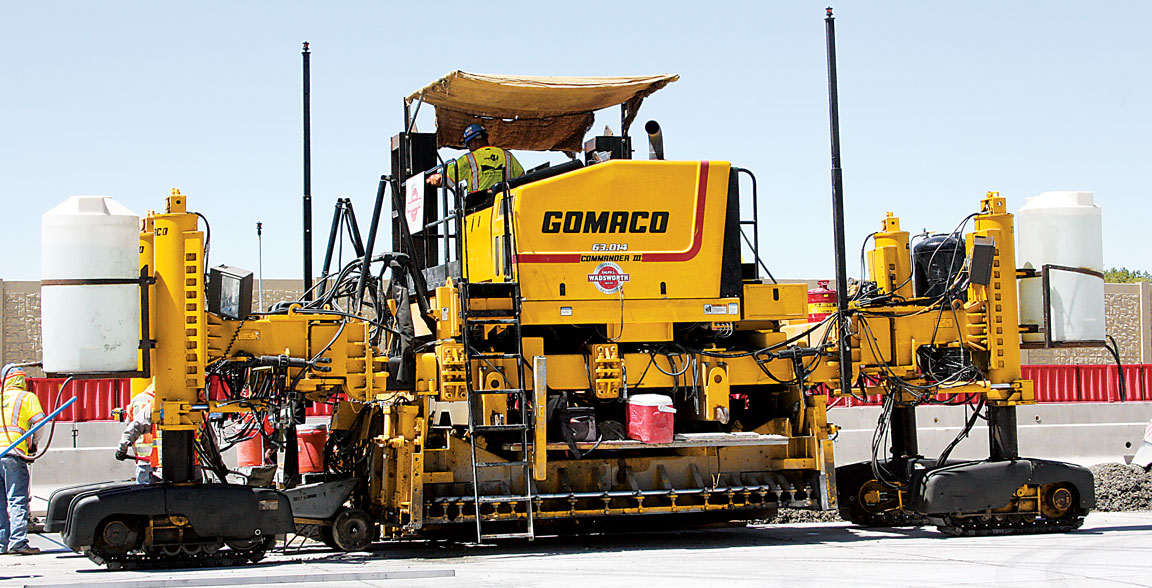 A 13 foot (4 m) paving mold remains mounted underneath the Commander III as it slipforms with its sidemounted mold. This allows for quick paving application changes.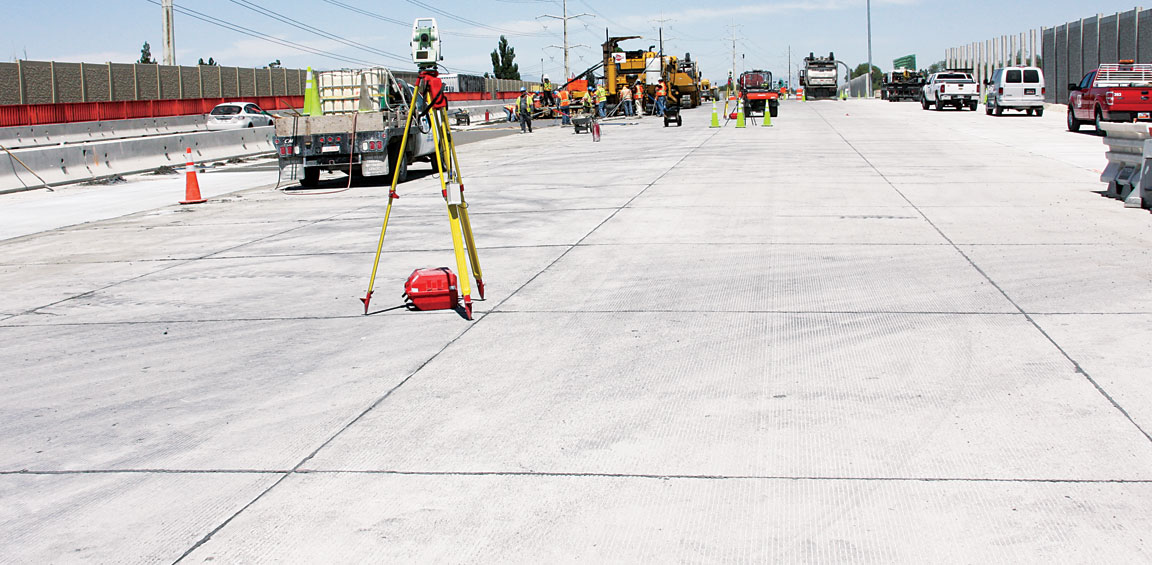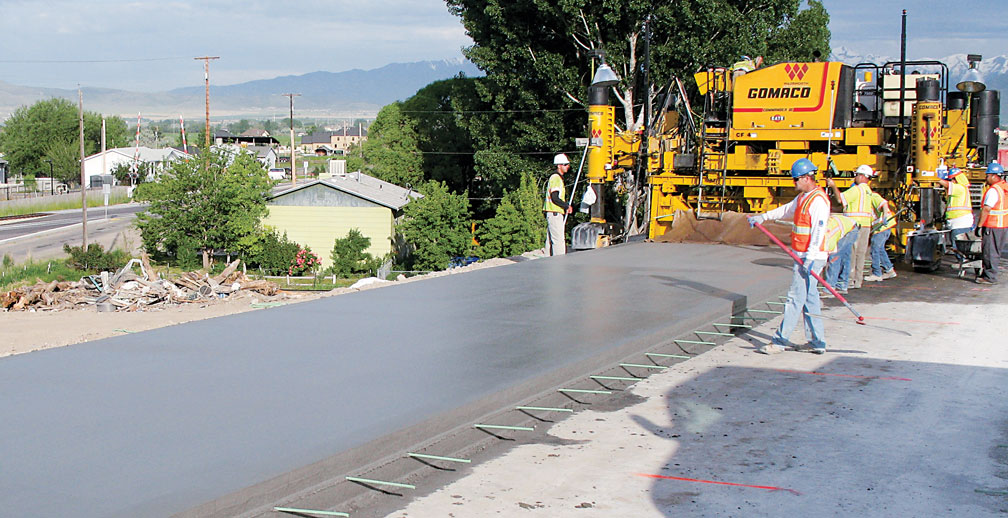 The GOMACO Commander IIIs on the project are slipforming a variety of applications, including ramps, shoulders, and zero-clearance median.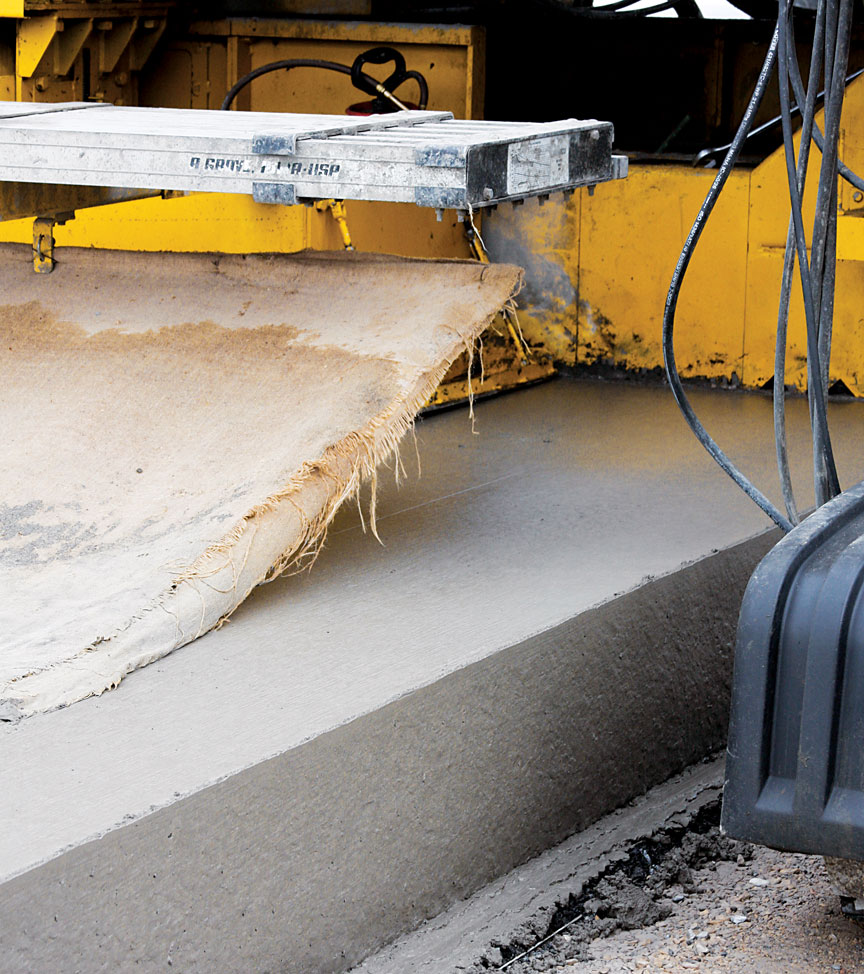 The Commander III with V2 mold produces the sharp GOMACO edge.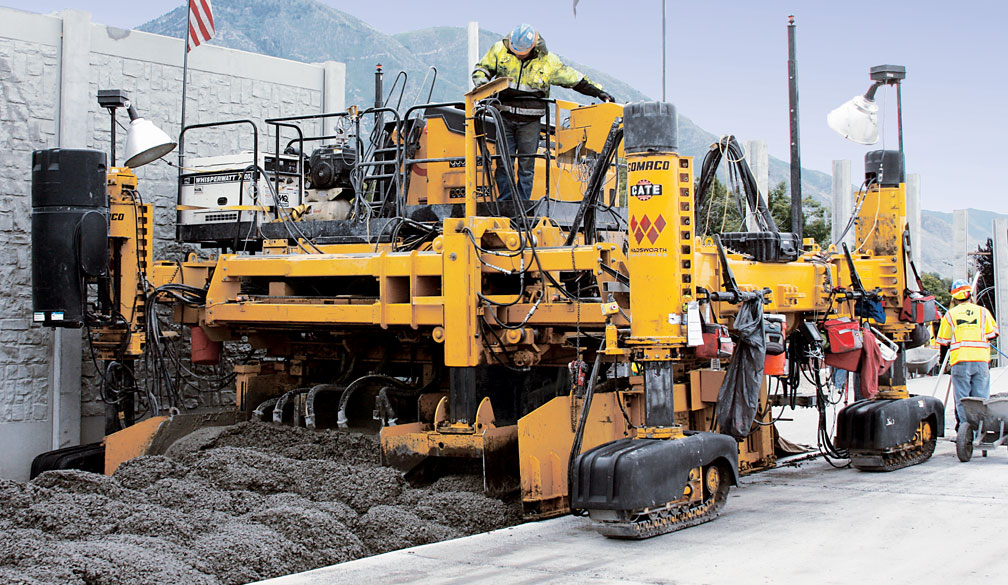 The spreader plow mounted to the front of the Commander III with V2 mold controls the head of concrete in front of the paving mold.