GOMACO World Index --- GOMACO World 40.2 - October 2012
THIS is a Paving Project– The I-15 CORE -
Page 4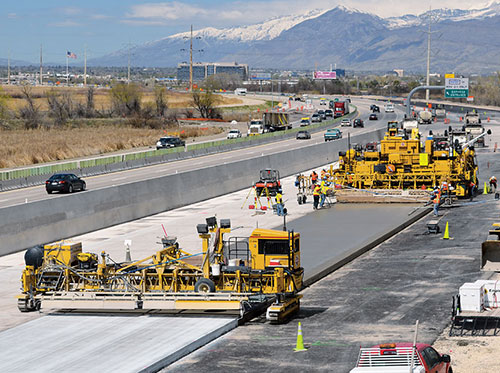 A PI for Concrete Smoothness
UDOT uses a profile index (PI) to measure the smoothness on their projects. It's a measure of the deviation of the ride surface from the true surface with characteristic dimensions that affect the vehicle's dynamics and ride quality. The PI is calculated by taking a 528 foot (161 m) section and summarizing the count and size of all the deviations from both wheel tracks in each lane. Then, the two wheel tracks are averaged and extended out to equal a count for a full 5280 feet (1609 m) or one mile (1.6 km). The I-15 project requires a PI of less than five inches (127 mm) per 528 foot (161 m) section.
PRC's corridor-wide PI average is only 2.7 inches (69 mm).
"When we started paving, my goal was a PI of 3.8 inches (96 mm) paving with the IDBIs, so I'm very happy," Steeves said. "Rideability starts at the batch plant with consistent concrete coming up the grade. The paver has to be fed properly, too, with a good consistent head of concrete out in front."
Batching the Concrete
Three concrete batch plants are set up along the length of the project. The concrete is a 6.5 sack mix design, 60 coarse, 40 fine, with a typical air entrainment of five to seven percent. Heritage Trucking runs the wet batch, designating 60 trucks day and night to PRC's paving spreads.
The mix design stays consistent for each of the different pavers, but the average slump varies. Yet, one batch plant will feed two different pavers with two different slumps. A simple solution was devised to manage truck routing, guaranteeing the correct mix reached the correct paver.
"Truck designation to the paving spread is crucial," Steeves explained. "The Commander III with the 9500 placing in front uses a little wetter 1.75 inch (44 mm) slump, while the GHP-2800 crews like a one inch (25 mm) maximum slump. The trucks are color-coded with duct tape and then designated to a specific paving spread. The colored duct tape is placed on the window and bed of the truck where the batch plant operator can see it and then batch the appropriate slump. It gives us the ability to operate two spreads out of one batch plant effectively."
The 40-year PCCP is being slipformed on a solid base. The subbase is comprised of six inches (152 mm) open grade with three inches (76 mm) of lean asphalt on top of it. Concrete paving on the project began September 15, 2010.
Utah County I-15 Corridor Expansion - GOMACO World Vol. 40, No. 2
Page 1 - Page 2 - Page 3 - Page 4 - Page 5 - Page 6 - Page 7 - Page 8 - Page 9 - Page 10 - Page 11 - Page 12 - Page 13