GOMACO World Index --- GOMACO World 40.2 - October 2012
THIS is a Paving Project– The I-15 CORE -
Page 2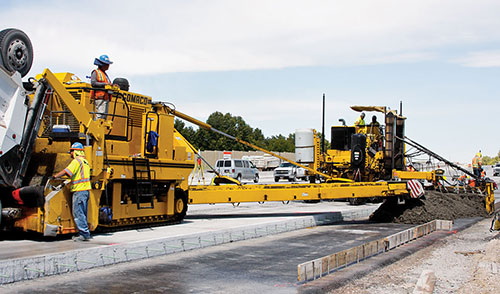 One of three GOMACO 9500 placers on the project works in front of a cantilever, four-track Commander III with a sidemounted mold slipforming a scab-on median.
Provo River Constructors
Three consortiums were final bidders on the project. Provo River Constructors (PRC) with team members Ames Construction, Fluor Corp., Ralph L. Wadsworth Construction Company, and Wadsworth Brothers Construction, won the bid.
"There are a myriad of components that won PRC the project," Stewart explained. "First, was their MOT (Maintenance of Traffic) strategy. PRC kept all lanes of traffic that we had existing open during construction. A second item was their pavement design. PRC proposed a 40-year pavement design, placing concrete on top of an asphalt base. Our estimate showed we could get 16 miles (25.7 km) from Lehi Main Street to Provo Center Street. PRC stretched that an additional eight miles (12.9 km) south, with 40-year pavement, extending the scope of our project.
"The most important aspect of their proposal was their completion date of December 2012. PRC will deliver 24 miles (38.6 km) of urban reconstruction in just slightly less than three years. This is the fastest project of this magnitude ever delivered in transportation."
With the bid secured, PRC had the monumental task of assembling their team and acquiring equipment, all while starting work on the design/build project.
"Inherent to any large project where it's a joint-venture type of system is you have to assemble teams and assemble crews and there's a learning curve," John Butterfield, Materials and Pavement Engineer for the CORE Project, said. "You just don't pop the top of this ready-made organization. You start to assemble teams and crews and you bring people in wherever you can, and all this time you're starting to excavate. You're tearing up work already, so this is a learning curve on the fly."
PRC's paving partners, Ralph L. Wadsworth Construction Company and Wadsworth Brothers Construction, brought their concrete paving experts and GOMACO equipment to the project. PRC also added paving equipment to the project's extensive inventory.
The entire list includes:
- one GOMACO GP-4000 four-track with IDBI attachment
- two GOMACO GHP-2800 four-tracks with IDBI attachments
- one GOMACO GHP-2800 two-track
- four GOMACO Commander III four-tracks
--- one with a V2 variable-width mold
--- two with a zero-clearance paving kits
- three GOMACO 9500 placers
- four GOMACO T/C-600 texture/cure machines
- four Leica 3D stringless paving systems
Utah County I-15 Corridor Expansion - GOMACO World Vol. 40, No. 2
Page 1 - Page 2 - Page 3 - Page 4 - Page 5 - Page 6 - Page 7 - Page 8 - Page 9 - Page 10 - Page 11 - Page 12 - Page 13