GOMACO World Index --- GOMACO World 40.2 - October 2012
THIS is a Paving Project– The I-15 CORE -
Page 7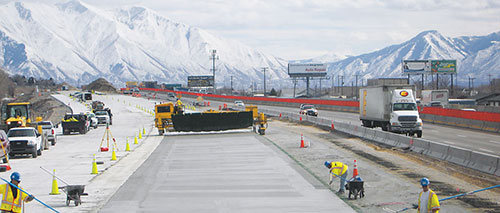 Miles of temporary barrier wall separates live traffic from the construction work as just one part of the detailed and comprehensive management of traffic plan in place on the project.
Four T/C-600 Texture/Cure Machines
PRC's four GOMACO T/C-600 texture/cure machines work behind the GP-4000 and GHP-2800 pavers. They apply an Astroturf drag finish and also a 0.125 to 0.1875 inch (3 to 5 mm) deep longitudinal tining, per project specification. Then the texture/cure machines apply a white, pigmented spray cure to the new concrete at a 100 square feet per gallon (2.5 m2/l) specification.
Three GOMACO 9500 Placers
Width restrictions on the project don't allow room for a typical placer/spreader, so PRC is utilizing 9500s. There are three GOMACO 9500 placers working in front of the four-track Commander IIIs placing concrete on grade in front of the pavers. The high-volume placer, paired up with the versatile Commander III on the project, are able to knock out a lot of paving in challenging and restricted-clearance areas.
"We use a 9500 placer in front of our two-track GHP-2800, and that crew also pins dowel bar baskets," Steeves said. "The 9500 allows us to keep an unobstructed haul route, pin baskets, and place concrete directly in front of the paver, while working between concrete barrier with 36 inches (914 mm) of track grade on each side of the paver.
"On this project, we deal with having enough room for the paver by inches, not feet. Each of the Commander IIIs are fed by a 9500, as well. The 9500s have been a useful piece of equipment to facilitate the concrete paving operations."
The 9500 operators use the placer's remote control to control the machine's travel and placing conveyor. It allows them to be positioned for the best visibility.
"The remote allows the operator better visibility," Steeves said. "He can stand towards the back of the machine and maintain a good view of both the hopper and the placing. He has radio communication with the person dumping the trucks, as well as the paver operator. The radios allow for better communication and a better and more efficient placing operation."
The operator on the 9500 works with the placer's remote control and can move along the operator's platform to get the ultimate view of both the concrete truck dumping into the hopper and the belt placing in front of the GHP-2800 paver.
Utah County I-15 Corridor Expansion - GOMACO World Vol. 40, No. 2
Page 1 - Page 2 - Page 3 - Page 4 - Page 5 - Page 6 - Page 7 - Page 8 - Page 9 - Page 10 - Page 11 - Page 12 - Page 13