Street Paved Stringless In U.S. For The First Time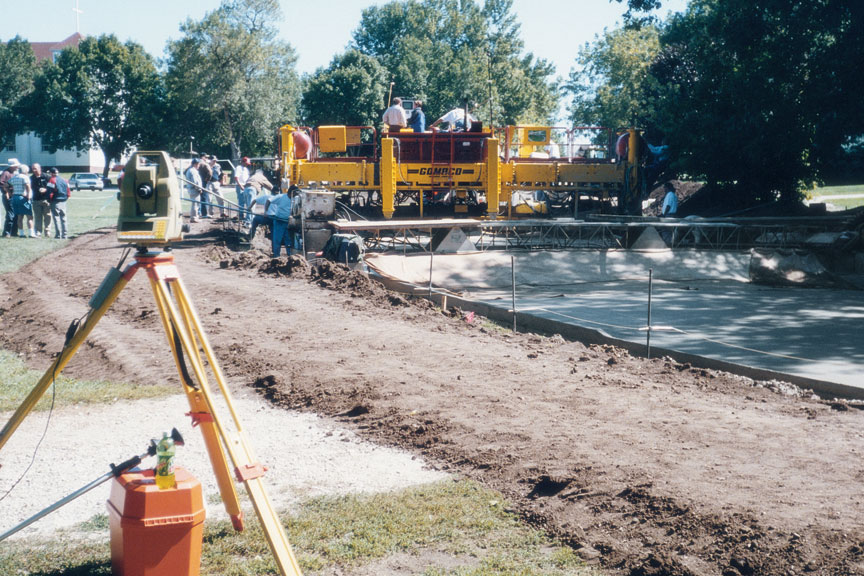 Tuesday, September 14, 1999, Forrest Avenue in Ida Grove, Iowa, became the first street in the United States to be paved with a stringless system. GOMACO Corporation, in partnership with Leica, provided the automated 3-D machine-control systems for the paving project.
In fact, all of the grading and paving work was accomplished with the stringless system. Any GOMACO machine equipped with the GOMACO Network Control System can easily adapt to the Leica guidance system without major revisions.
A GOMACO trimmer equipped with the Leica 3-D Command Center prepared the grade. With grade preparation complete, the GOMACO GP-2600 two-track paver came off the header around mid-morning and began work on the first-time paving project.
The stringless GP-2600 was guided by two total stations which tracked prisms mounted on the paver. The machine's position coordinates were communicated to the GOMACO network controller on the GP-2600. The controller then communicated to the machine's grade and steering components via the GOMACO CAN Network.
The 3-D Command Center used the measurements to calculate the present machine location and orientation and compared the data with the previously loaded project data. From this comparison of the required and actual data, the 3-D Command Center derived the control parameters for the machine. The parameters were then placed on the GOMACO CAN Network for use in the various control loops for the paver. The measurements, with millimeter accuracy, from the total station are transmitted to the 3-D Command Center on the paver via a radio link as the GP-2600 passed.
The stringless control system has many advantages. It can accommodate radii or superelevations automatically according to design data. The real-time navigation system allows the project data created in the CAD system to be directly put into the paving process. As a result, the product quality, operational safety, and the work rate improve.
The Forrest Avenue project was 1100 ft. (335m) long and 27 ft. (8.23m) wide with integral curb on both sides of the street. Godbersen-Smith Construction Company of Ida Grove was the contractor in charge of the paving project.