GOMACO Corporation manufactures curb and gutter machines, concrete slipform pavers, placer/spreaders, trimmer/placers, cylinder finishers, canal machinery and accessories ideal for any concrete construction project.


(Updated 09-26-16)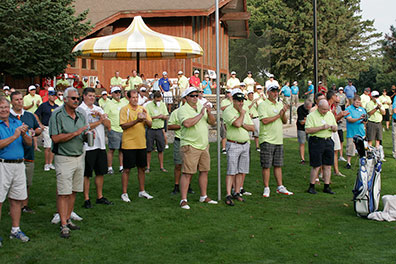 GOMACO wishes to extend a special "thank you" to everyone who traveled to Ida Grove, Iowa, in September and joined us for GOMACO Invitational #35. We hope everyone had a great time at the construction industry's most unique golf event, and celebrated great friendships and business relationships.
The "Grand" Champion team for the Scramble Tournament came from the Ida Grove course, and included, from left, Chad Schaeding of GOMACO, Kevin Garcia of Trimble Navigation Ltd., Craig Endahl of PACE Manufacturing, and Greg Kuhlman of Iowa Fluid Power.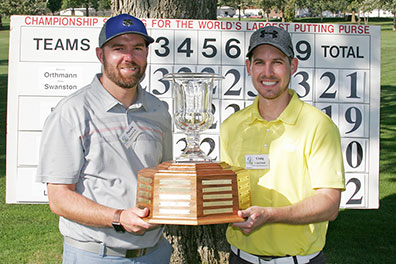 The Putting Tournament Champions were, from left, Patrick Wells of Wheeler Machinery Co. and Craig Endahl of PACE Manufacturing, Inc.
The Contractors' Shoot-Out Champions were, from left, Dan Bingamon of Maile, Inc., Jeff McCall of Dragados, and Ryan Ramthun of Michels Paving.
Photos By GOMACO Advertising
Follow Us On Twitter To Receive Snapshot Update Notifications


If you have job site photos with GOMACO machines you would like to share for future "Snapshots," please send an e-mail to bwonder@gomaco.com. If we use it, we'll send you a free hat!



Select any link below to find an authorized GOMACO distributor near you and the GOMACO District Manager for your area.






3300 - The World's Most Intelligent Multi-Application Paver Designed for Right-Side and Left-Side Pour

The world's most intelligent multi-application paver.

- Smart Front Pivot Arms for leg positioning reference for G+® control.
- Smart Power-Slide on rear leg for positioning reference for G+ control.
- Extreme Steering capabilities with hydraulic rotational drives.
- Smart Leg Positioning and Smart Steering provide correct steering angles through a radius.
- Sensored Radial Steering on all tracks for automatic directional control.
- Smart Telescoping Mold mounting system for reference to G+ control for repeatable mold offset.
- G+ ConnectTM for 3D guidance systems and accessories.

Designed for right-side and left-side pour.

- Symmetrical configuration for paving on either side.
- U-shaped operator's platform for right-side and left-side operation and ultimate operator visibility.
- Sliding console for operating off either side and locks out of sight when not in use.
- 20 foot (6.1 m) conveyor with four-way hydraulic positioning for loading the hopper on right-side or left-side.
- Folding conveyor reduces transport length.

Load-sensed hydraulics for maximum performance and optimized for fuel efficiency.
GOMACO Hook-and-Go mold mounting system for quick mold changes.
All-Track Steering for tight radius work and job-site mobility.
Tier 4 ready.
G+ quiet running technology.
Isolated operator's platform for operator comfort.
Sideshifting trimmerhead and mold.
Vertical adjusting trimmerhead and mold.

Download The 3300 Slipform Paver Brochure (PDF)

More on the 3300 Slipform Paver.


GP3 - The World's Most Intelligent Paver

The new GOMACO GP3 is designed for paving up to 30 feet (9.14 m) wide and is designed to accommodate multiple width changes.

GOMACO roller frame with Smart Cylinders for dual telescoping capability.
Smart Telescoping for accurate frame widening and automatic width reference for steering setup.
Smart Pivot Arms for leg positioning with G+

®

controls and hydraulic rotational swing.
Extreme Steering capabilities with hydraulic track rotation, GOMACO selective steer, and G+ controls. Radial Position Tracking with G+ automatic directional sensing.
Load-sensed hydraulics for maximum performance and optimized for fuel efficiency.
Tier 4 ready.
New hose and cable management features for hydraulic hose routing and frame cable organization.
Retractable console to reduce shipping width.
T-Beam mounting rail incorporated into the telescoping frame.
G+ quiet running technology.
Isolated operator's platform for operator comfort.
Easy access to operator's platform from both sides and rear of the GP3.
G+ Connect

TM

for smart accessories and all guidance systems.
IDBI capable for up to 24 feet (7.32 m) wide.

Download The GP3 Slipform Paver Brochure (PDF)

Watch The GP3 Product Presentation Video

More on the GP3 Slipform Paver.


Sidemounted Trimmer For GT-3400 Trimmer

GOMACO has developed an attachment for the trimming of narrower widths for scab-on curb and gutter slipforming applications with the GT-3400 trimmer.

The GT-3400 trimmer's new sidemounted trimmerhead attachment has a powerful, closed-loop trimmer that is 30 inches (762 mm) wide and has a wheel diameter of 56 inches (1422 mm). It features framework on the front to support the trimmerhead. The new trimmer has 18 inches (457 mm) of hydraulic vertical lift for depth adjustments and for easy shipping on a trailer. It also has a third conveyor for moving material. The extra conveyor transfers the trimmed material from the trimmerhead to the standard transfer conveyor.

Download The GT-3400 Sidemounted Trimmer Feature Sheet (PDF)

More on the GT-3400 Sidemounted Trimmer.


Next Generation Commander III Slipform Paver

The GOMACO Commander III, the best-selling multi-application slipform paver of all time, just got better. The Next Generation Commander III's new design was driven by the new GOMACO G+ control system and the new Tier 4 engines.

It features a redesigned frame and operator's platform with a new pivoting operator's control console.
The frame has been rebuilt to accommodate Tier 4 engines and their cooling packages.
The operator's platform is now isolated to eliminate vibration. It's also quieter to work on the platform or around the machine.
The Commander III has a new optimized cooling package with the hydraulic fan controlled by G+ to adapt cooling needs to job-site conditions for both a quiet and efficient operation.
It has improved fuel efficiency with a power-optimized engine and load-sensed hydraulic circuits.
It has the new GBox on every leg to accommodate improved steering and grade with G+ controls.
The Next Generation Commander III will be available with an optional on-board camera as a new device to monitor designated areas of the slipforming process.
G+ controls make all of these advancements possible on the Next Generation Commander III, including hydraulic fan speed, pivoting operating console, the electronic and hydraulic initiative and more. G+ controls will also accommodate telematics for remote engine and machine monitoring.

Download The Next Generation Commander III Brochure (PDF)

More on the Next Generation Commander III.


Zero-Clearance GT-3400 Trimmer For High-Volume Grade Preparation

A trimmer for narrower-width, zero-clearance flat or monolithic sidewalk and curb and gutter
Easily fits between existing trees, utility poles and other obstacles in residential sidewalk paving
Three-track design features All-Track Steering for easy maneuverability between obstacles, getting on/off stringline, and loading/unloading the machine
Trims standard and monolithic sidewalk profiles up to eight feet (2.4 m) wide
Hydraulically-controlled front gate on trimmerhead can be raised to trim through windrowed material or lowered for standard trimming
A 15 foot (4.6 m) long, 15 inch (381 mm) wide transfer conveyor and a 19 foot (5.8 ft) long, 20 inch (508 mm) wide discharge conveyor move the trimmed material
Discharge conveyor folds and swings 90 degrees from center to avoid obstacles such as trees and utility poles
The GT-3400 is operated by a wireless remote control allowing the operator freedom to move around the job site while operating the machine
Controls are located on the discharge conveyor for positioning and folding

Download The GT-3400 Sidewalk Trimmer Brochure (PDF)

More on GT-3400 Sidewalk Trimmer.


High-Production With The Commander III Trimmer

High-production trimmer capable of widths up to 11 feet (3.4 m)
Features the same framework as the Commander III curb and gutter model, but with minor modifications
Equipped with the most powerful trimmer ever put on a Commander III
Capable of trimming flat or monolithic sidewalk and curb and gutter profiles
Trimmerhead has three air shocks to keep it stable during the trimming process
Two conveyors move the material
Shipping width is only 11 feet (3.4 m) and the Commander III trimmer transports as a single unit
Trimming conversion can be retrofitted to higher horsepower existing new generation Commander IIIs with G21 or newer GOMACO control systems

Download The Commander III Trimmer Brochure (PDF)

More on Commander III Trimmer.


Four-Track T/C-5600 Texture/Cure Machine

GOMACO's four-track T/C-5600 texture/cure machine is equipped with four crawler tracks and the G+® control system for electronic-over-hydraulic steering and grade control. The four-track design allows for All-Track Steer (ATS) for easy transport and width changes, and the frame design has the structural integrity to go up to 56 feet (17.07 m) wide.

The T/C-5600 features a new walking end car with cure tank. Frame sections can be added or removed by turning the tracks 90 degrees, and walking the end car with attached cure tank to the required width. The T/C-5600 has the all new Tracer Texture Control for tining depth accuracy, and the exclusive GOMACO G+ control system has self-diagnostics for grade and steering.

Download The T/C-5600 Texture/Cure Brochure (PDF)

More on T/C-5600.


G+ Connect

TM

- A Revolutionary Control System For GOMACO Equipment

The proprietary CAN-based network on GOMACO products that allows fast, two-way communications between all accessories and the G+ controller.

GOMACO's exclusive G+ Connect is a closed-loop control system for both the electronics and hydraulics on GOMACO pavers. The closed-loop system between the paver's valve drives and various sensors means unparalleled accuracy. The sensored feedback ensures tighter, faster, and more accurate machine corrections. G+ Connect utilizes a CAN (control area network) network allowing all of the components of the system to easily communicate with each other for precision setup and paving. At the heart of G+ Connect is the G+ control system, GOMACO's proprietary software and control system.

Download The G+ Connect Brochure (PDF)

More on G+ Connect.


GT-3200 Paver Featured For Sidewalks


GP-2400 Slipform Paver

The GOMACO GP-2400, available with two or four tracks, is the economical slipform paver.

Two-track or four-track slipform paver.
Simple to operate with the new GOMACO designed G+ control system.
Range of paving widths up to 16.5 feet (5 m) with the standard telescoping frame. Widths up to 24 feet (7.5 m) with frame inserts.
T-beam mounting rail for accurate and quick mold positioning, quick mounting, and removal of the mold.
Ultimate operator visibility.
Powered by a 174.5 hp (129.5 kW) Caterpillar

®

diesel engine.
Travel speed up to 105 feet per minute (32 mpm) on the two-track paver and up to 96 feet per minute (29 mpm) for the four-track paver for fast job-site mobility.
Designed for minimum machine transport width for faster, easier, cost effective job-to-job mobility.
3100 series open-front mold.
Right-side or left-side barrier with four-track paver.

Download The GP-2400 Slipform Paver Brochure (PDF)

More on the GP-2400 Slipform Paver.


Left-Side And Right-Side Barrier With The 4400

Right Side

Pour off the right-side and left-side with the 4400 ultimate barrier paver.

GOMACO U-shaped operator's platform, with vibration isolation, puts the operator comfortably on top of the action.
Control console slides from side-to-side for ultimate operator control. When not in operation, the console locks safely away in center position. New proprietary G+ control system operates in multiple languages.
Power-optimized Cummins QSB3.3, 99 hp (74 kW) diesel engine.
Hydraulic leg height adjustment of 36 inches (914 mm), manual adjustment of eight inches (203 mm).
Piston-style legs with bearings on both ends of the inner tube eliminate steel on steel contact. Steel keyway on cylindrical inner tube provides steering control.
GOMACO-exclusive trailing stainless steel for a superior finish.
Barrier Hook-and-Go mold mounting system for barrier up to 39.4 inches (1000 mm) tall. (Side-mount option available for taller or existing profiles.)
Track circuits provide up to 37 feet per minute (11 mpm) operating speed and up to 98 feet per minute (30 mpm) for job-site mobility.
Front and rear telescoping legs on both sides.
Industrial strength molded leg caps provide component protection.
4400 series auger built with pitch and speed designed specifically for low-slump concrete.
16 inch (406 mm) diameter auger.
Four-way hydraulic positioning allows perfect placement of the auger for concrete receiving and delivery to the mold on either side of the 4400.
1. Pivoting Tilt
2. Pivoting Swing
3. Longitudinal Slide
4. Sideshifting
Optional molds available for barrier, parapet, curb and gutter, and sidewalk.

Download The 4400 Barrier Paver Brochure (PDF)

More on the 4400 Barrier Paver.


Paver-Mounted GSI

®

Immediate smoothness readings are available with the GSI on-board your paver. The paver-mounted GSI is a cost-effective quality control tool that is quick and easy to install on your GOMACO paver. Since it's on-board the paver, any interference with the rest of the paving train or finishing crew is minimal. It also has the capability of reading multiple traces, from one to eight.

The effectiveness and quality of the GSI has been verified by contractors on projects around the world and by independent studies.

Download The GSI Brochure (PDF)

More on the GSI.


Hydraulic Side Bar Inserter (SBI)

The GOMACO Hydraulic Side Bar Inserter (SBI) is designed to insert straight tie bars into the side of a newly paved slab using hydraulic force to insert the bar. Vibration, which is adjustable in a range of 2000 to 6000 vpm, is applied to the bar during the insertion process to assist with penetration and also consolidation of material around the bar. The insertion apparatus maintains its position with the side of the slab, as the paver continues to move forward during insertion of the bar. The SBI can be fitted to either the left side or right side of the paver or an inserter can be placed on both sides.

Download The Step By Step - Hydraulic Side Bar Inserter (SBI) Brochure (PDF)

More on the Hydraulic Side Bar Inserter.


Commander III 4-Track Features Roller Frame

A roller frame provides easy and accurate width changes. The Commander III's frame hydraulically telescopes on the left side up to 6 ft. (1.83 m). The dual rollers, mounted to the top and bottom of the outer frame tubes, position the inner tube and reduce the amount of surface to surface contact area. This reduces friction and drag as the inner tube rolls when telescoping. The roller frame was originally developed for the Commander III with a V2 mold. The V2 is GOMACO's dual mold system that is hydraulically adjustable for paving at different widths. The roller frame provides a fluid action as the V2 mold is making on-the-go width changes for tapered slabs. The roller frame is now standard on all GOMACO Commander III four-track machines. It can also be retrofitted in the field on existing Commander IIIs.

Download The Commander III Brochure (PDF)

More on the Four-Track Commander III.


Optional Folding Rear Conveyor Belt For 9500

The GOMACO 9500 trimmer or placer is available with an optional rear folding conveyor. The option allows the conveyor to remain attached to the 9500 during shipping. The 9500's shipping length, with the new folding rear conveyor, is just 41.8 feet (12.7 m). Shipping height is 11.5 feet (3.5 m).

Engineers rebuilt the conveyor to be stronger and more rigid with a new, truss-style framework. The switch to control the hydraulic folding operation of the conveyor can be placed at different locations on the back of the machine. The belt width is still 36 inches (914 mm) and the rear conveyor maintains its 160 degree swing with hydraulic height adjustment up to 12 feet (3.7 m). It has a 34.7 feet (10.6 m) long reach during machine operation, with a conveyor belt speed of 504 feet per minute (153.6 mpm) allowing fast placing of concrete or removal of trimmed material.

Download The 9500 Brochure (PDF)

More on the 9500 Trimmer/Placer.


5400 Series Paving Mold

The 5400 series paving mold is designed with a structural integrity that is unmatched in the industry.

New box design with durable 0.5 inch (13 mm) paving skin
Vertically-adjusting mold mount for precise leveling of mold to machine
Telescoping end sections with 12 inches (305 mm) of width variation on each side are available
Standard paving depth is zero to 24 inches (610 mm)
Edge slump adjustment
Hydraulic Vertical Hinged Sideplates, self-contained inside the mold for track clearance
Split, pressure-compensated sideplates
Folding sideplate wings for transporting without removing
Pivoting mold mounting beam to eliminate stress points
Self-supported TA is hydraulically driven with 3.5 inch (89 mm) ACME screws for up to a six inch (152 mm) crown
Front and rear top T-bar on mold for attaching accessories and structural integrity
Inserts are bolted together with front and rear alignment pins for easy mold assembly
New vibrator mounting tube attaches to T-bar on mold
– Vertical vibrator lift
– Rear lubrication system with grease zerks accessible from the work bridge
New strike-off
– Mounted on paver frame T-rail, independent of the mold
– New modular design with wedge lock system for ease in changing widths
– 10 inches (254 mm) of hydraulic height adjustment
– Hydraulic crown adjustment
Spreader plow mounted to paver frame T-rail, optional auger available
Tamper bar optional

Download The 5400 Series Mold Brochure (PDF)

More on the 5400 Series Paving Mold.


5400 Series Bar Inserter

Rear-loading, front-inserting bar inserter for the 5400 series paving mold.

Bar inserter is rear loading and front inserting for ease of use
Mounts to the mold's T-bar and allows crown changes, on-the-go, while maintaining a constant bar depth
Individual depth guides on right and left side of bar inserter keep bars parallel to top of slab
Holds up to 50 bars in bar magazine and bar loading chain system
Bar box is mounted to paver's rear T-rail for easy access and loading of bar magazine
Reliable bar loading chain system with bars traveling in a flat, straight path for maximum efficiency
Inserts bars up to 7.5 inches (190 mm) deep into concrete slab
Accommodates #3 (0.375 inch/10 mm) to #8 bars (one inch/25 mm) in diameter and 20 to 40 inches (508 to 1016 mm) in length
Proximity switch control for automated bar loading system
Rear lubrication system with grease zerks accessible from work bridge
Controlled with GOMACO's new G+ system

Download The 5400 Series Bar Inserter Brochure (PDF)

More on the 5400 Series Bar Inserter.


C-450 With Transitional Framework

The transitional framework is a new design option for the GOMACO C-450 cylinder finisher that provides faster assembly and weight savings compared to wider-width finishers requiring an overhead truss system. The new frame features transition sections connecting the C-450's standard 24 inch (610 mm) tall framework to the 42 inch (1067 mm) tall framework used on a C-750 finisher. The frame sections only need to be pin-connected and the cross arms bolted in place.

The overhead truss system is eliminated. The transitional framework not only provides a much quicker assembly time, but also decreases the weight of the machine considerably. It is estimated to be eight pounds per foot (11.9 kg/m) lighter when compared to a machine with overhead truss.

The transitional framework sections can also be removed and the C-450 can finish at smaller widths with its standard 24 inch (610 mm) framework. The new framework allows the versatility of two finishers in one for the narrower or wider widths. The new transitional framework can be added to new or existing C-450s.

GOMACO's line of bridge deck finishers is also available with the optional third wheel assist on the standard bogies to further distribute the machine's weight while traveling on the rails. The optional third wheel assist bogies, on each side of the finisher, consist of two single-wheel idler bogies attached to the spreader beam. It's a simple modification that can be made to any C-450 or C-750 to help spread the weight out and reduce the wheel load on the overhang brackets.

Download The C-450 With Transitional Framework Brochure (PDF)

More on the C-450 with transitional framework.


Standard Features For GT-3600

Hook-And-Go Mold Mount System

Travel speed has nearly doubled from 66 fpm (20 mpm) to 125 fpm (38 mpm) with the two-speed track system.
Sensor arms and mounts which are more durable, lighter weight and easier to manipulate.
Hook-and-Go mold mount system has no pins or latches and makes it quick and easy to change molds. Simply drive the GT-3600 up to the mold and hook the mount to a special attachment plate. The operator hydraulically lifts the mold and goes back to work slipforming the project.
Legs have been increased in diameter by 15 percent, providing the same quality and durability as the Commander III legs.
Push-button steering control setup with "smart" cylinders.


V2 Mold For Quick & Easy Width Changes

Hydraulically adjustable dual mold for various paving widths
On-the-go paving of tapered slabs
Separate mold control for the right and left side
Features dual PTAs for crown height adjustment
Telescoping plow framework to accommodate width changes
Available with a curb profile on one or both sides for municipal paving
Designed to adapt to virtually any paver/prime mover in the field today
GOMACO is developing programmable width changes through our G21 controller and other possibilities for the new V2


24-Hour Emergency Service Assistance At 712-364-4716
A representative from the GOMACO Service Department is available 24 hours a day. If you have an after-hours emergency, dial 712-364-4716, and you will be connected with the GOMACO service representative on call. During normal business hours, simply call the Service Department for assistance.





The All-American Canal: Slipforming 72 Feet (21.9 m) Wide...

The All-American Canal lining project through the Imperial Valley in California called for a new 23 mile (37 km) long concrete-lined canal to be built parallel to the existing unlined canal. Coffman Specialties would pave the six mile (9.7 km) long Reach Two and four mile (6.4 km) long Reach Three of the project. The proposed lined sections would have slopes of 1.75:1 and 2:1, a bottom width of 50 feet (15.2 m) and a top width spanning 150 feet (45.7 m). Slope widths would be variable, between 37.3 feet (11.4 m) and 45.7 feet (14 m). The concrete lining itself would be four inches (102 mm) thick.
The first piece of equipment was the canal paver. A GOMACO GP-4000 prime mover, set on top of a ten foot (3 m) tall framework, provides the power plant and control system for the paver. The mold sections are a 5000 series paving mold which were slightly modified. The machine is mounted on four tracks that are 13 feet, nine inches (4.2 m) long, 30 inches (762 mm) wide and 40 inches (1016 mm) high.
The second piece of equipment GOMACO built for the All-American Canal paving train is the water stop machine. It follows directly behind the canal paver inserting the transverse water stop material every 15 feet (4.6 m).
The work bridge is the third piece of equipment in Coffman Specialties' canal paving train. It gives finishers a platform to work from and is used to cure the finished canal. A curing mechanism is mounted to the back of the work bridge to apply the white curing compound.
Click here to learn more about the All-American Canal project.
Click here to read about the project in GOMACO World Vol. 36, No. 2.


Place Stone Base Material With The PS-2600

A PS-2600 placer/spreader was recently equipped with a rock hopper to place stone base material. It was developed for a customer who needed a machine that could carry base material, rather than pushing a pile like regular placer/spreaders. After the material placement, the machine can be converted back to a traditional PS-2600 by removing the rock hopper and attaching the concrete strike-off and belt.
More on the PS-2600 placer/spreader and the rock hopper for placer/spreaders


GOMACO equipment will slipform concrete streets and highways, airport runways, curb and gutter, sidewalks and recreational trails, safety barrier, bridge parapet and irrigation canals.
Support equipment includes grade trimmers, concrete placers, concrete placer/spreaders and texturing and curing machines. We also offer equipment to finish flat slabs, bridges, and slopes.
GOMACO will consult on equipment for large or unique concrete paving projects. Our products are offered through a worldwide distributor network for local sales, parts and service expertise.



Current Job Postings
Employment Opportunities
At GOMACO
Press Releases
News At GOMACO
For International
Guests
Featuring Pages In
Español, Francais,
Deutsch, Italiano,
and русский
Sitemap
Navigation Assistance
Photo Showcase
GOMACO Machinery At
Work
About GOMACO
Corporation
Looking Back and Into
The 21st Century
A Message From The
President
Greetings From Gary L.
Godbersen
Industry Links
Visit Our Friends In The
Industry
Distributors' Corner
News For GOMACO
Distributors
Gomaco Trolley Company
Manufacturers Of Authentic
Vintage Trolley Cars and
Trolley Car Parts
Godbersen Equipment
Company
Resellers of Used Concrete
Construction Equipment
Upcoming Shows

World of Concrete 2017
January 17-20, 2017
Central Hall, Booth C5126
Las Vegas Convention Center
Las Vegas, Nevada, USA
www.worldofconcrete.com

CONEXPO-CON/AGG 2017
March 7-11, 2017
Central Hall, Booths C30380
Las Vegas Convention Center
Las Vegas, Nevada, USA
www.conexpoconagg.com